Some Historical Notes on Tackle
When the Southern California Tuna Club was organized in 1925, there were three classes of tackle: heavy, light and three-six (3/6); all rod tips and butts were wood and all line was linen . The 3/6 class provides that the entire rod weight not exceed 6 oz ., the overall tip length to be not less than 6'0', and 6 thread linen line .
| | | | |
| --- | --- | --- | --- |
| | Heavy | Light | 3/6 |
| Rod length overall min . | 6'-9" | 6'-0" | 7'-0" |
| Total rod weight max . | — | — | 6 oz . |
| Tip length | 5' min . | 5' min . | 6'-0" min . |
| Tip weight | 16 oz . max . | 6 oz . max . | — |
| Butt length | open | 14" max . | 12" max . |
| Line no . std . linen threads | 24 | 9 | 6 |
| Line max . dry test lbs . | 66 | 26 | 16 |
The breaking strength of a given linen line was determined by the number of standard linen threads it contained . One thread equates to approximately 3 pounds under wet test conditions .
A medium tackle class was adopted in 1937 using 18 thread linen with a maximum breaking strength of 45 pounds dry . In 1939 the linen line specifications were changed to 15 thread with a maximum breaking strength of 42 lbs . dry .
A significant change occurred in 1955 when synthetic or linen line and any type rod or reel per I .G .F .A . rules was permitted . The 3 thread tackle class was also added that year . This was a new class using 3 thread standard linen line with a maximum wet test breaking strength of 12 lbs . Each linen tackle class was placed within an appropriate new synthetic line class, thus 3 thread linen with a maximum dry breaking strength of 8 lbs . or 9 lb . wet was placed in the 12 lb . class .
Commencing January 1, 1962, line test only applied to all tackle specifications which permitted the use of any type rod or reel and the use of synthetic or linen lines . In 1970, these general specifications were revised by embracing I .G .F .A . rules unless otherwise stated . Rods were to be in accordance with sporting ethics and customs, of any materials but excluded freak rods . Rod, reel and line to be in reasonable proportion as specified in previous S .C .T .C . tackle specifications .
Commencing September 22, 1983, the maximum wet test breaking strength of synthetic or linen lines was changed to the metric system .
On January 21, 1994, the Club added the 2 kg ., 4 kg . and 8 kg . line classes .
Tackle Specifications
(Section 5(a) of Article VII)
The following tackle specifications shall apply for all tournaments, prizes, and/or trophies sponsored by the Club . It is the angler's responsibility to test his lines prior to use to insure that the breaking strengths are within these limits .
2 kg . . . . . . . . . . . . . . . . . . . . . 4 .41 lbs .
4 kg . . . . . . . . . . . . . . . . . . . . . 8 .82 lbs .
6 kg . . . . . . . . . . . . . . . . . . . . . 13 .22 lbs .
8 kg . . . . . . . . . . . . . . . . . . . . . 17 .63 lbs .
10 kg . . . . . . . . . . . . . . . . . . . . . 22 .04 lbs .
15 kg . . . . . . . . . . . . . . . . . . . . . 33 .06 lbs .
24 kg . . . . . . . . . . . . . . . . . . . . . 52 .91 lbs .
37 kg . . . . . . . . . . . . . . . . . . . . . 81 .57 lbs .
Due to the increased use of electronic scales which weigh in tenths of a pound instead of ounces, the Board has approved that entries in the record book will henceforth be shown in tenths of a pound . All entries will be rounded down to the lower tenth of a pound .
Angling and Tournament Rules
Area
The area in which fish may be taken to be eligible for S .C .T .C . recognition is limited to a section of the Northeastern Pacific Ocean bounded by Point Conception, latitude 34 26 .80 degrees N and the N . latitude parallel of 30 degrees on the South with a westerly limit of 200 nautical miles from the easterly boundary which is designated as the high water mark of the west coast mainland of North America .
Northern Area is limited to a special classification for albacore and salmon . The area is between Point Conception, latitude 34 26 .80 degrees N and the N latitude of 36 degrees .
Fishing Tackle
A . Every member who participates in club fishing tournaments or tournaments the club enters or turns in a weight slip must have a California fishing license and, if fishing club waters within the jurisdiction of the Mexican government, a Mexican fishing license . Members must at all times comply with the California or Mexican fishing regulations that apply in the club waters in which they are fishing . However, SCTC members may not exceed the legal individual daily bag limit for any species, whether fishing aboard a boat for hire (open party boat or charter boat) or a private boat . Hence, when a member catches and boats his daily bag limit of a species, he may not share that bag limit with other anglers on the vessel, nor may he catch and boat additional fish of that species during the same calendar day .
B . Every Angler must bring his fish to gaff by use of rod, reel and line only, and unaided .
C . IGFA Rules and Regulations shall apply to fishing tackle unless otherwise stated in these Rules .
D . Angling Rules affecting SCTC anglers are recapitulated as follows:
1 . a . ROD – Rods must comply with sporting ethics and customs . Considerable latitude is allowed in the choice of a rod, but rods giving the angler an unfair advantage will be disqualified . This rule is intended to eliminate the use of unconventional rods . The rod tip must be a minimum of 40 inches (101 .6 cm) in length . The rod butt may not exceed 27 inches (78 .58 cm) in length . These measurements must be made from a point directly beneath the center of the reel . A curved butt is measured in a straight line . (The above measurements do not apply to surf casting rods .)
b . REEL – Reels must comply with sporting ethics and customs . Power driven reels of any kind are prohibited . This includes motor, hydraulic, or electrically driven reels and any device which gives the angler an unfair advantage . Ratchet handle reels are prohibited . Reels designed to be cranked with both hands at the same time are prohibited .
2 . SCTC Angling and Tournament Awards shall be in classifications established by the appropriate club committee and based upon the wet testing strength of the actual lines used in making the catch, whether braided, woven, twisted or monofilament .
3 . Line may be made of natural or synthetic fibers . Wire line is not permitted .
4 . LINE & BACKING – The use of backing is permissible . The catch shall be classified under the breaking strength of the first 16 .5 feet (5 meters) of line directly preceding the double line, leader or hook . this section must be comprised of a single, homogenous piece of line . (Revised 04/2017)
5 . Th leader and double line for all classes of tackle shall not exceed a length of 15 feet for leader and 15 feet for double line .
6 . No bait or artificial lure may contain more than two single hooks . For live or dead bait fishing with two hooks attached to the leader, both hooks must be embedded in or securely attached to the bait . The hooks must be attached or embedded separately, with the eyes of the hooks fastened not less than a hook's length apart and no more than 18 inches apart . A hook's length is the overall length of the largest hook used . In the case of artificial lures containing two hooks, the eyes of the hooks must be no less than a hook's length apart . When using an artificial lure with a skirt or trailing material, no more than 2 single hooks may be attached to the leader and the trailing hook must not extend more than a hook's length beyond the skirt of the lure or 12 inches behind the first hook, whichever is shorter . A hook may not precede bait, lure or bait/lure combo by more than one hook's length . Assist hooks or other such single hooks that are attached to a lure with a lead constructed of monofilament, multifilament, wire or other such material must conform to the following: When using assist hooks on any artificial lure, other than a skirted lure, the lead cannot be more than 1-1/2 hook's length and the bend of the hook may not be more than 4 inches, whichever is less, from the closest point of attachment on the lure . When using two hooks, each lead must be attached to a separate connection point on the lure . The use of a dangling or swinging hook is prohibited . The use of double or triple gang hooks, or clusters of hooks, being two or more fastened together, is prohibited . (A "dangling hook" is one which is free-swinging and intended to snag or foul a fish that does not swallow the lure or bait .) – (Revised 01/2012)
SCTC COMPLIANT
Lead Length

i .e .: 1 .42" (36 mm)
Hook Length, i .e .: 1" (25 .25 mm)
With this assist hook, the lead is within 1-1/2 hook's length (measured from the closest point of attachment on the lure to the eye of the hook).

ARTIFICIAL LURES: Assist hooks can be used with any artificial lure, other than a skirted lure.
NOT SCTC COMPLIANT

Lead Length
i .e .: 2 .5" (63 mm)
Hook Length, i .e .: 1" (25 .25 mm)
With this assist hook, the lead exceeds 1-1/2 hook's length (measured from the closest point of attachment on the lure to the eye of the hook).
With this assist hook, the bend of the hook is more than 4 inches (101 mm) from the closest point of attachment on the lure.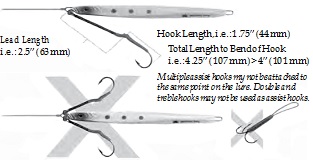 7 . Resting the rod on the gunwale of a boat while playing a fish is prohibited . A harness may be attached to the reel on a rod . The use of a rod belt is permitted .
8 . Changing of rod or reel, or splicing a line, or removal or addition thereto during the playing of the fish is prohibited .
9 . Gimbals must be free-swinging . Any gimbal which allows the angler to reduce strain so as to give him rest while fighting a fish is prohibited .
10 . GAFF – A detachable or fixed head gaff not exceeding 8 feet in overall length may be used . The length of the wire or rope attached to the head of a detachable head gaff must not exceed 30 feet and only a single fixed prong is permitted . EXCEPTION:
a . In cases where members own a boat with an exceptionally high gunwale so as to make an 8-foot gaff inadequate, the Tackle Committee will give consideration to a written request from such member for use of a longer gaff on that boat . Final approval must be given by the Tackle Committee PRIOR to utilization of such a longer gaff .
b . PARTY BOATS – In cases where members are fishing from open party boats with a gunwale sufficient to require a gaff of more than 8 feet the fish shall be recognized as a legal fish for SCTC awards and prizes .
11 . The pole used to tag fish to be released shall not exceed 8 feet in length, including the tag applicator attached thereto . EXCEPTION:
a . The exception applicable to gaffs as set forth under paragraph 10(a) above shall also apply to tagging poles .
E . It is compulsory for every member when competing for club prizes to have his line tested prior to use . The club shall reserve the right to require an additional line test and to call for an examination of tackle whenever such action may be deemed advisable by order of either the Board of Directors or by the Tackle Committee . Line may be tested prior to or after each weekly meeting or by contacting one of the below to have it tested at another time .
| | | |
| --- | --- | --- |
| Paul McEachern | Geoff Magnall | Tom Schlauch |
| 562-547-3100 | 562-965-6991 | 562-243-0770 |
Anglers' Actions and Prohibitions
A .  Every angler must handle his tackle continuously and unaided from the time a fish  strikes until he has brought his fish to gaff by use of regulation tackle only . Only the angler is permitted to adjust reel, drag or line, or to touch any part of the fish. No other person is permitted to give assistance other than to take the leader for gaffing purposes or in replacing or adjusting the harness .
B . Only one person other than the angler is permitted to take the leader, but there shall be no restriction regarding the use of a gaff in addition to the person holding the leader .
C . Any of the following acts shall disqualify a fish for recognition by the SCTC:
1 . Failure to comply with any of the SCTC rules and regulations .
2 . Broken rod, line or leader .
3 . Another person adjusting or handling the tackle during the fight of the fish   .
4 . Hand lining of the fish or the use of a hand line or rope attached in any manner to the line, leader, or fish for the purpose of lifting or holding the fish   .
5 . Shooting, harpooning or lancing any fi   at any stage of the catch .
6 .  Throwing the gaff at a fish.
7 . Mutilation to the fish prior to landing or boating the catch, caused by sharks, other fish mammals or propellers that remove or penetrate the flesh . (Injuries caused by leader or line, scratches, old healed scars or regeneration deformities are not disqualifying injuries .) Any mutilation of the fish must be shown in a photograph and fully explained in a separate report accompanying the weight slip . – (Revised 01/99)
8 . All fish caught during a "Money Tournament" that is held in areas located inside and/or outside of Club Waters and/or organized and/or managed by any organization or individual(s) outside of the Club's authority or guidance shall not be counted towards any awards or recognition that the club normally bestows .
D .   All fish entered for competition for club prizes must be weighed in and recorded and the tackle must be exhibited when the fish is weighed in . Someone other than the angler must act as weighmaster . All weigh-in scales must be certified for accuracy . Member-owned scales may be certified by SCTC in accordance with certification standards approved by the Tackle committee . Each such scale will be issued a SCTC identifing  number, which must be affixed to the scale at the time of weigh-in . Scales so certified every 18 months or less may be used for weight slip submittal for button fish and the Annual Tournament . Scales with only this limited certification cannot be used for club records . All club record fish must be weighed in on land on scales that have been certified within the past 12 months by an authorized government agency or a qualified and accredited scales testing company . At the time of weighing a club record fish if the scale has not been properly certified within 12 months, it should be checked for accuracy as soon as possible . An official report stating the findings of the inspection prior to any adjustment of the scale must be submitted to the Tackle Committee within 30 days from the date of weigh-in .
Scales may not be hand-held during weigh-in, with the following exception: corbina, spotfin croaker and yellowfin croaker weighing 5 lbs . or less and caught from the beach may be weighed in on a hand-held scale that has been certified for accuracy by SCTC . For all other catches, scales that require suspension must be hung from a stationary fixture. In order to qualify for club records, fish must be weighed onshore . All other fish should be weighed onshore if possible but may be weighed at sea under the following conditions only:
1 . The vessel used as weigh station must be at anchor in calm seas .
2 .  The  weight entered on the weight slip must be the lowest observed weight during a one minute observation period .
During weigh-in, the weight of the sling, platform or rope (if one is used to secure the fish on the scale) must be determined and deducted from the total weight . Only weights indicated by the graduations on the scale will be accepted . Visual fractionalizing of these graduations is not allowed . Any weights that fall between two graduations on the scale must be rounded to the lower of the two .
Any protest relative to the tackle, weigh-in, manner of killing the fish or protest in regard to a violation of the section of the Club rules on "Boat Regulations" must be filed in writing (or postmarked) with the Secretary of the Club within 72 hours after the catch is presented at a Club meeting . (Revised 01/08)
E .   The  time of bringing the fish to gaff shall be considered the offciali time of catch . Date and time must be verified on the weigher's certificate.                        .
F .     In the event of a tie in fish weight, the first taken shall be considered the winner .
G .   All fish entered into competition and for club records except for "special awards" shall be Button fish.
H . A Certificate of Weight to be valid must be filed  or postmarked within 15 days from the date of catch .
Boat Regulations
A . A fish taken upon a boat which has dragged a hand line during the calendar day on which the fish is taken shall be automatically disqualified . A fish taken on an open party boat dragging a hand line over which the angler has no control shall not be disqualified under this rule .
B . Fish taken on a boat equipped with a pulpit shall be disqualified . EXCEPTION: A short pulpit for handling ground tackle shall not disqualify a fish under this rule provided the pulpit is less than 10% of the boat's overall length . The Tackle Committee may give special consideration to boats which have pulpits in excess of this restriction upon the member's written request . Provided, however, approval of such boat must be given by the Tackle Committee PRIOR to the catch to entitle the fish  to qualify for recognition .
C . Fish taken by any SCTC member on a boat owned or controlled by a member, which on the day of the catch is carrying equipment for harpooning, shall be disqualified. Fish taken on an open party boat or charter boat that is equipped for harpooning shall not be disqualified.
Weigh Scale Certification
Member   owned  scales  can  be certified at  the  club  for  free .  Bring your scale to any luncheon and find the weighmaster .    Certification is good for one year .