Guidelines for SCTC Weight Slips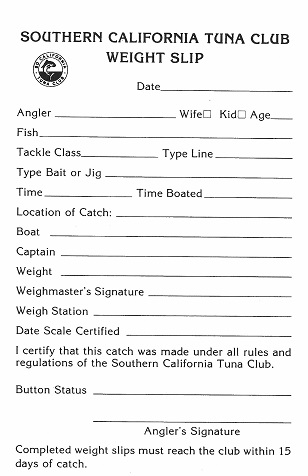 Be sure to submit a SCTC weight slip for every catch that qualifies for club buttons or awards . If the original weight slip used at weigh-
in is from another club, such as Balboa Angling Club or Avalon Tuna Club, complete a SCTC weight slip (available at the clubroom, or you can photocopy the sample in the back of the yearbook) and attach it to the original .
Regarding "Angler," only enter the age if the "kid" is under 21 years of age .
Identify the "Fish" accurately . Some slips have been submitted with only the word "yellow" on this line . Was it a yellowtail or yellowfin tuna or yellowfin croaker? Do not submit weight slips for species that the club does not sanction .
Under "Tackle Class," be sure to enter the correct line test in kg., not lbs.
"Time" from hookup to landing or release .
"Time Boated" means the time when you brought it aboard or released it in accordance with club rules . Be sure to enter AM or PM or use military time.
When you report a catch made near one of the club's fishing area boundaries, as set forth under "Angling and Tournament Rules" in the yearbook, be sure to enter the Lat/Lon location of the catch on the weight slip .
Regarding weigh-in, don't forget that someone other than the angler must act as weighmaster, except in the case of corbina, spotfin croaker or yellowfin croaker caught from the beach and weighed on a hand- held scale, as provided for in section D under Anglers' Actions and Prohibitions .
Regarding "Weigh Station," the yearbook lists some local stations for your convenience . These scales should bear a CA Dept . of Weights and Measures "Seal of Inspection ." The date on that seal is the one that should be entered as "Date Scale Certified" on the SCTC weight slip .
Contact Ron Seuss or a member of the Tackle Committee to have your personal electronic scale certified by the club . Per SCTC Anglers' Actions
and Prohibitions, Section D, "Scales so certified every 18 months or less may be used for weight slip submittal for button fish and annual tournaments . Scales with only this limited certification cannot be used for club records ." See Section D for additional information on scales and weigh-in procedures .
Regarding "Button Status," enter the button that your catch qualifies for only if you have not previously earned that button . If you already have the button, enter "already earned ." Each club button is limited to one per member "during his lifetime ."
Failure to complete the weight slip correctly may result in your fish being disqualified .
It's a good idea to review the club fishing rules and reg's each year in the new yearbook before fishing gets hot . In that regard, don't forget that club rules (Fishing Tackle, Section E) require you to test your line PRIOR TO USE when competing for club prizes . Synthetic line made of braided or woven fibers such as Spectra or Micro-Dyneema should be tested multiple times to ensure consistency . Note that most monofilament line that is not certified as IGFA tournament line, and even some that is, will test in excess of SCTC breaking strength limits, which are set forth under "Tackle Specifications" in the yearbook . Ande monofilament tournament line that complies with SCTC tackle spec's is available for purchase in the clubroom .
See a member of the tackle committee if you need help using either of the club's line testers or the line winder .
Line may be tested prior to or after each weekly meeting or by contacting one of the below to have it tested at another time .
| | |
| --- | --- |
| Paul McEachern: | (562) 547-3100 |
| Geoff Magnall: | (562) 965-6991 |
| Tom Schlauch: | (562) 243-0770 |
The following content is accessible for members only, please sign in.