Fish Weight Estimating Formula
The following is the formula to use in estimating weight of fish by measurement:
Multiply the square of the girth A (in inches) by the length B (in inches) and divide by 800 .
Take measurements as follows: Girth at thickest point: length, from point of lower jaw to crotch of tail .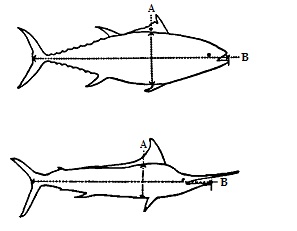 For example:
A fish measures 38" in girth and 59" in length 38 x 38 = 1,444,
and 59 x 1444 = 85,196
then, 85,196 ÷ 800 = 106 .49 or 1061⁄2 lbs .
The above formula, if carefully applied, will give a surprisingly close estimate of the weights of all types of fish except flat fish .
Characteristics of Small Bigeye and Yellowfin Tuna
At first glance, small yellowfin and bigeye tuna are almost identical in appearance . You will have to be able to distinguish them in order to record accurate catch and length/frequency data . The following
characteristics will help to distinguish the two species:
Liver characteristics of juvenile bigeye (top left) and yellowfin tuna (bottom left).
This article is reprinted from SPC Fisheries Newsletter #62, July/September 1992.
Author: David Itano
206
BODY OUTLINE
Bigeye: Dorsal and ventral outline from tip of snout to tail almost a smooth arc; round, deep body form .
Yellowfin: Dorsal and ventral outline from second dorsal fin to tail somewhat flat; body form more elongate .
COLOR (live or very fresh only)
Bigeye: Dark metallic blue back, iridescent blue upper flanks, silvery/ white sides, white belly .
Yellowfin: Dark blue/ black back, bright yellow mid-lateral band, silver sides, white belly .
PECTORAL FIN
Bigeye: Extends to or beyond the posterior of the second dorsal fin; thin, floppy tip; curves posteriorly when erected .
Yellowfin: Extends only to anterior of the second dorsal fin; thicker, blunt tip .
CAUDAL FIN
Bigeye: Central portion of trailing edge forms a small, semi-circular notch . Dark in color .
Yellowfin: Central portion of trailing edge forms a sharply indented "V"- shaped notch . Yellowish in color .
BODY MARKINGS
Bigeye: Sparsely marked with pale, silvery, vertical stripes that are contained in the posterior half of body .
Yellowfin: Densely marked with slightly curving, vertical bands, alternating between rows of vertical stripes and spots; may begin below pectoral fin and extend posteriorly .
SWIM BLADDER
Bigeye: Often fully inflated; extends along the entire body cavity; highly visible .
Yellowfin: Normally deflated or slightly inflated; extends along the front half of the body cavity only; not obvious .
LIVER
Bigeye: Three even-sized, rounded lobes; ventral surface striated .
Yellowfin: One lobe thin and elongated; ventral surface always smooth and clear of striations .