SCTC Meeting Notes 02/24/2022
Welcome

Attendees 25

President Terry Tysseland welcomed all attendees to the So Cal Tuna Club's 97th year. Welcome to the Grand Opening of The Clubhouse for 2022 – This is the first in-person meeting we have had in 2022 due to Covid protocols.

Terry buys drinks for everyone – drinks are on Terry. Since we were unable to have the Installation Dinner due to Covid (where it is the tradition for the incoming President to by the drinks) we had a ZOOM meeting instead. So today Terry caught up on his obligation. Cheers Everyone!!!

Announcements

Great to see everyone! We will be continuing all lunches and local events at the SCTC Clubhouse for the foreseeable future.

Members we haven't seen in awhile – everyone attending the meeting was a 'member that we haven't seen in awhile' since this was the first in-person meeting of 2022 due to Covid. Some notables – Mike Mundy, Frank Spina, Lou Earlabaugh, Greg Guest, Paul Rybak, Tyler Jackson, Dick Ableser, Victor Katoff and 17 more since this was out first meeting of the year due to Covid protocols.

New Member – Larry Krueger was introduced by his sponsors Mike Mundy and Jeff Clary. Welcome Larry!!!

Guests – John Schlaugh, Tom Schlugh introduced his son and welcome John!!!

Good Cheer Report – Co DeCoudres reports that –

Don First is in the room and enjoying lunch. Great to have you back Don and hope you heal well and completely.

Mike Mundy is the house and Pam is getting better from Covid from which they are both recovering.
Ron Herbst is recovering from Covid and doing better.
Mike Brown continues to improve.
Past Events – Event Chairmen's Orientation was held on February 22nd at the SCTC Clubhouse starting at (5pm) with drinks on the house – It was intended for anyone Chairing, Co-Chairing or considering Charing or Co-Chairing an event ("Highly Recommended for "Newer Members"). There were 28 in attendance and they enjoyed a pizza, antipasti salad, and dessert dinner. The orientation was presented by Terry, Joe Vicic and Don Herman tag-teaming through the policies and procedures that were comprehensively written by Don First and Tyler Jackson. And how now these policies and procedures can be applied practically to the SCTC Website tool to run the events was ably presented by Don Herman our Webmaster.

SEND IN YOUR DUES or pay online – Please!

Weight Slips- None.
Fish Stories -Tom DixonII fishing with Dennis and Desiree Friedman in Hawaii.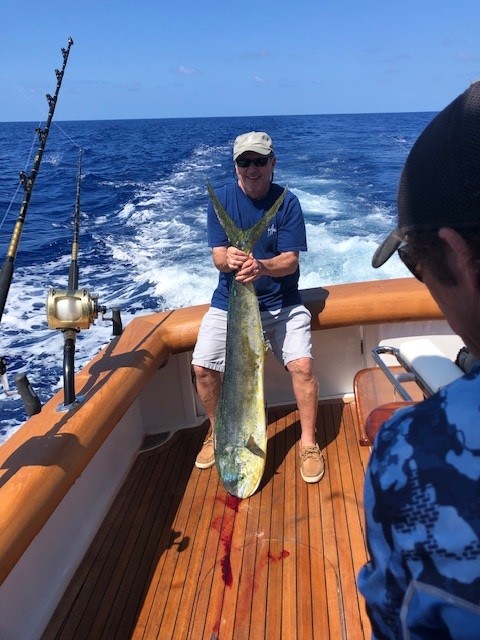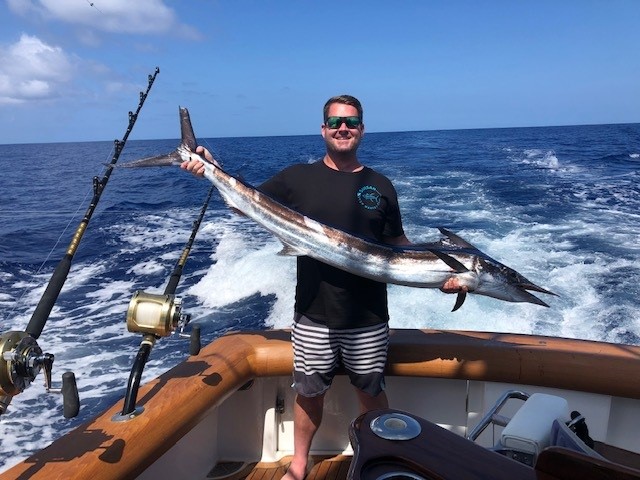 Future Events:
Couples Trip – Andrew Weiske – has been postponed to the fall of the year due directly or indirectly to Covid causing it to be very difficult to tie down hotels and boats and captains. The exact dates are yet to be determined but please think hypothetically 9/25 to 10/3 with exact dates to be confirmed in the short term future.
Ladies Cocktail Party – Doug Drummond – 3/26/22. Please send in your checks to Doug made out to SCTC for ($125 per person) $250 per couple or you can pay online on our Website.
April 13th – Annual Golf Tournament Meadow Lake Golf Course – Register online or contact Jeff Clary. Same format as last year – pick your Foursome. Already 40 signed up and room for more.
May 16-20 Freshwater Trip – The El Salto Trip still has openings if anyone wants to join us for the best largemouth bass fishing in the world!!! The final payment for the trip is $1200 for a total cost of $2200 per angler for lodging, boats, guides, transportation and t-shirt. The anglers will need to get their own air transportation and there will be about $300 in tips to the lodge and guides– Call Paul McEachern. Paul will be putting on a seminar on this Thursday March 3rd after our regular meeting for any going on the trip. This meeting is for anyone going for the first time or the tenth time to learn more about the trip. This will be an informative talk about baits and techniques for the lake.
June 9-11 Spring Bass Tournament (Tuna included in the category) Whites landing. *There will be a Dock and Ramp this year – pay online or send your deposits to Cor Claus!
June 18-23 Annual Kids Trip – Thom Ryan and Andrew Weiske – this is a reminder that the 2022 Baja Kids Trip is coming up in June. Thom says this will be an epic trip and that they have roughly 62 people already signed up and with deposits paid. There is room for a few more members, kids, grandkids or even a guests now. They will be making the flight reservations very soon so if you are on the fence please let Thom or Andrew know and submit a $500 per person deposit. You can pay your deposit on the website or send either Andrew and Thom a check in the mail. Thom and Andrew say, "It's the trip of a lifetime for the kids …..trust us!!!"
Options Trip (September21-22 has 1 opening) Call John Lavarias
Queen Charlotte Trip – 8/3 to 8/7 – has 2 rooms or 4 openings for two per room available – Call John
Tackle Day – 4/9 and Annual Scale Certification will take place on this day. See Co DeCoudres – we can use donations and volunteers!
Other Announcements

Club Website – https://socaltunaclub.org/#myaccount