April 9, 2022
Chairman Rich "Co" DeCoudres
Tackle Day 2022 was a SMASHING SUCCESS, more than doubling the amount taken in for scholarships over the previous year.
Tackle Day 2021=$6000. Tackle Day 2022=$13,775!
Pulling off Tackle Day 2022 was a challenge. After a first peek into that nearly empty storeroom in February, there was talk of canceling this annual event. A productive Tackle Day seemed to be a distant dream as we didn't have much left to sell since our successful Tackle Day 2021 (the most successful Tackle Day ever recorded). "Beating the bushes" of our membership by sending semi-humorous nagging emails, making impassioned pleas, and initiating timely phone calls produced positive results. Our generous members responded by coming up with a breathtaking array of rods, reels, line, tackle bags, anchors, dock carts, rod tubes, jigs, trolling lures, lead heads, swim baits, fillet knives, coolers, trolling motors, fishing boots, down riggers, camping gear and classic fishing books. Making this sale one for the record book were key contributions of valuable tackle made by Al Herzog, Bob Hetzler and Dave Woody along with very large "overbids" on items by Curt Herberts II and Terry Tysseland. All proceeds from Tackle Day were deposited in the SCTC Educational Foundation account by treasurer Mike Contino for the benefit of students in the CSULB Marine Biology program.
Ron Herbst (solicitor/organizer/sales), Steve Gammer (organizer/pricer), Bob Briggs (transporter/organizer), Mike Kenyon (banker), Victor Katkov (tackle wizard/sales), John Lavarias (jig master/organizer/sales), Dick Bell (organizer/sales), Don First (store room manager/set up), Steve Sproule (set up/tear down/sales) and Co DeCoudres (chair/pricer/organizer) all played key roles in our fundraising success. This team made calls, picked up tackle from various cities, then cleaned and organized the piscatorial treasure trove. Two days before sale day, dozens of members helped remove and stack chairs, then formed an assembly line to move tackle from the storeroom to the clubhouse. Sales were brisk all morning April 9 with new members and their guests eagerly picking up bargains, helping us raise money for a great cause. Hospitality was provided by Don and Co, two men who love fresh bagels, lox and cream cheese, a tasty donut, hot coffee and little hit of Baileys first thing in the mornin'.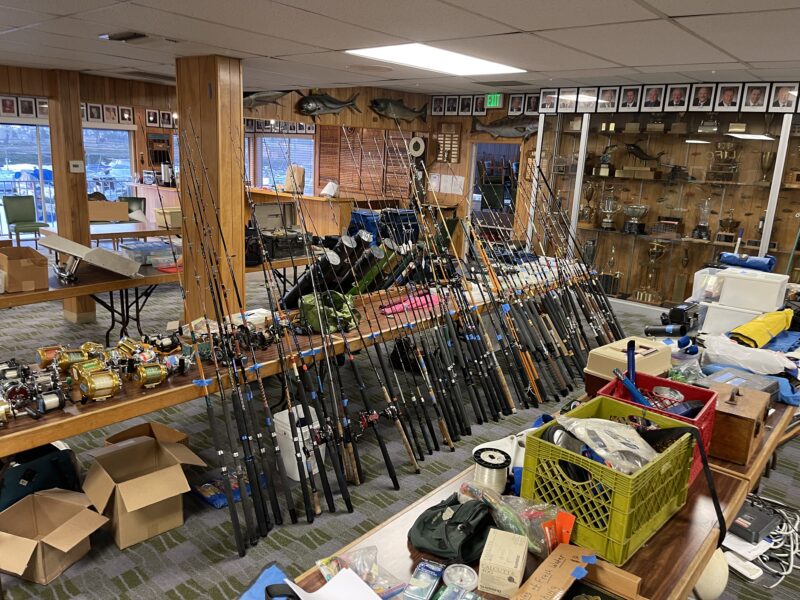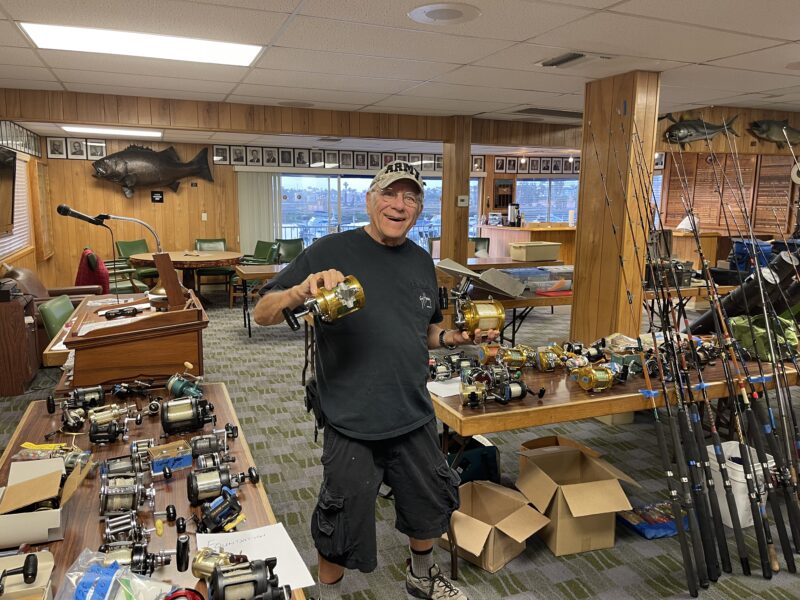 But Tackle Day wasn't over yet. At the end of the day, we still had plenty of tackle left so plans were being made to sell the remaining items. We were given a great opportunity…tailgating on the Bahia Yacht Club Rib Feast and Tackle Sale on June 5, the same day as our Burger Bash! Once again, our volunteers mustered up and set up shop at 5am in the parking lot among other vendors. That competition didn't affect us as we generated over $2000 in sales and liquidated most items. Makes for a very challenging goal for Tackle Day 2023…but hey, what's life without a challenge?!