Ladies Cocktail Party
February 12,2022
Chairman: Douglas Drummond
OUR 2022 VALENTINES PARTY became the LADIES COCKTAIL PARTY…
And this is how it came to be
Terry Tysseland, our 2022 LBTC President wanted to celebrate our escape from covid lockdown and return to normalcy. Terry selected Doug Drummond to chair the event and targeted the Valentines Party for an upbeat social mixer, and we decided to take the Southern California Tuna Club to Lions' Automobilia Car Museum for a 50's Dinner-Dance.
Automobilia is newly opened museum with several hundred period cars, with muraled walls celebrating the era of the car in Long Beach, the Lion's Drag Strip, a 50's Diner, a movie theater, and other scenes. It even has a Batmobile. It's a visit to our younger days.
We made arrangement for Saturday evening, February 12 and moved ahead with plans. Our members jumped aboard. Jeff Stone volunteered entertainment (his wife as vocalist and her band). Chris Scott helped with The Grand's (our caterer) menu plans. The bar was a puzzle. Then Jeff Stone approached member, Phil Capriccio who owns and operates Garvey Wholesale Beverage, and we were given a list for mix needs, bartenders found, and Phil supplied beer, wine, and liquor. A "Mermaid" ice sculpture was ordered.
See's Candy has their manufacturing plant nearby and Doug Drummond found a way into the employee's store and lined up boxes of See's Chocolates as the ladies' favor.
The printing of invitations was finished. Invitations went out. Payments were coming by check or now ONLINE at our Club website. We were all set to go, but then up jumped the devil…we were crushed with a new Covid shutdown. They say the best plans can flop, so a new plan was developed.
We re-scheduled, using Saturday, March 26, as the Ladies Cocktail Party. Same time, same location, same menu, and we lost our entertainment due to a prior booking. Automobilia promised piped in 50's music.
E-mail announcements went out. President Terry Tysseland made calls, twisted arms, and found member help to generate a good turn-out. Thirty-five couples (70 people) attended. This was the best turnout in memory.
The dinner was grand from The Grand, the bar excellent, floral centerpieces elegantly decorated each ding table. The piped music brought back memories. The museum was spectacular. It was a wonderful social event with our ladies.
Each lady left with a box of See's candy. Eight of the ladies left with beautiful floral centerpieces.
It was a nice way to exit COVID.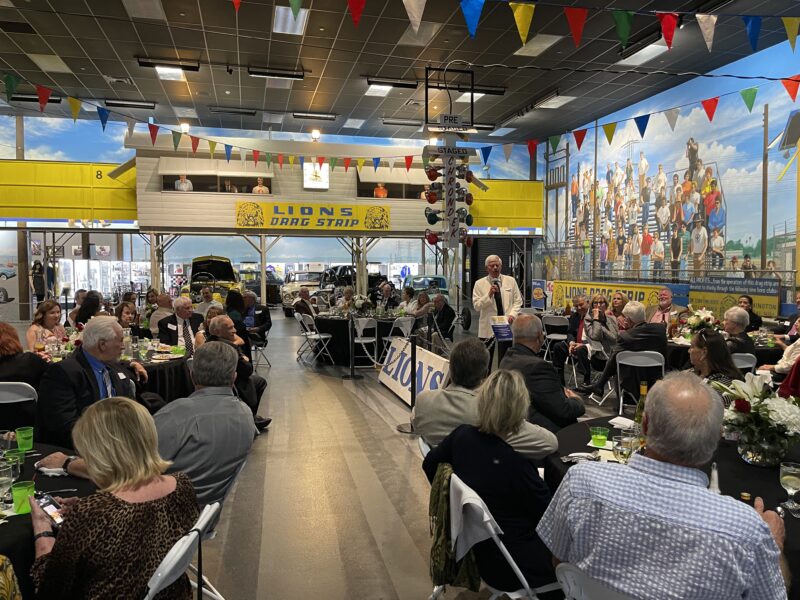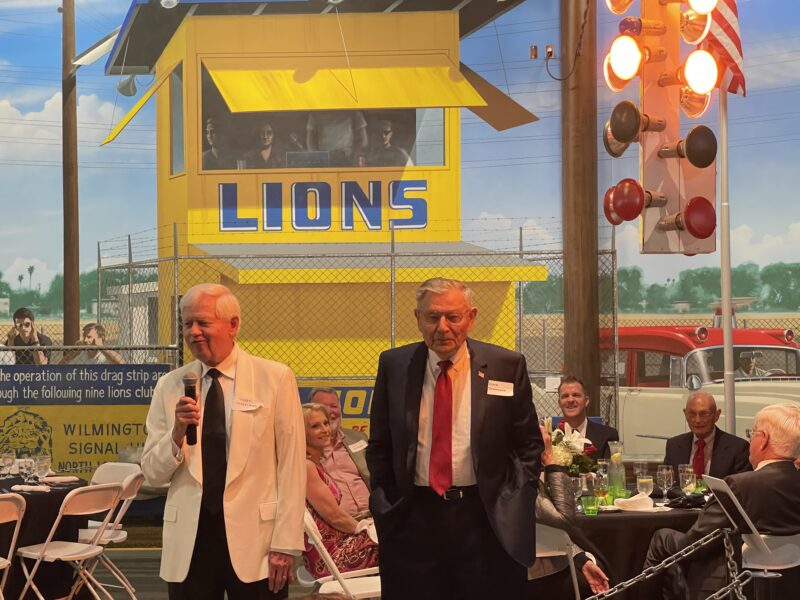 A special thank you to Doug Drummond for all his extra effort to assure a memorable event, and also to Dr. Steve Gammer for taking many-many photographs.