Weekly Updates
11/11/21
Past Presidents Dinner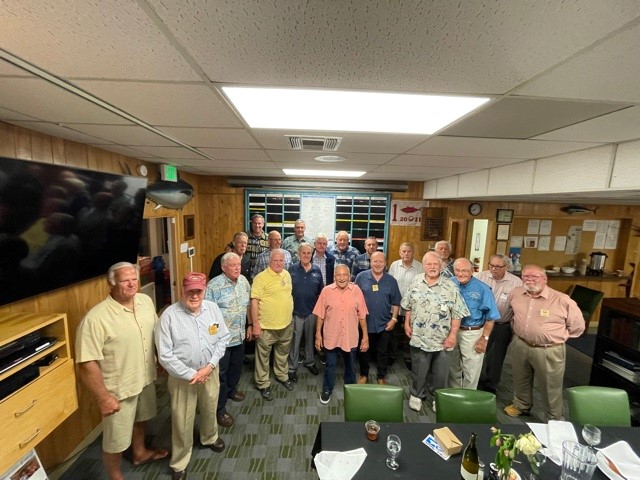 This year's Past Presidents Dinner was hosted by Mr. Terry Tysseland.
Prior to the start of the Past Presidents Dinner honoring all the SCTC Past Presidents pictured above, Dennis Friedman opened the meeting with a modified format prior to the festivities beginning with 70 members and guest in attendance.
Members not seen for a while
Curt Herberts
Kevin Merrill
Jim Bateman
Jim Halliday
Jeff Clary
Darin Smith
Paul Southgate
Gary Tucker
Frank Pratto
Welcome back guy's, good to see you!
Good Cheer
Bob Briggs is doing better after surgery and starting rehab on Monday
Don First reports Monte Naverre is sitting at home and is bored. Members
are encouraged to contact Monte.
Gus Chabre is recovering from shoulder surgery and doing O.K.
Mike Brown is now in ICU rehab at Kindred Hospital in Westminster.
He is much better but still has a way to go.
New Member
Ron Herbst introduced new member Mr. Joe Petro.
With no other business to conduct Dennis turned the event over to
Terry Tysseland.
As the event was held on Veterans Day Terry recognized all the veterans
in the room followed by reciting the pledge allegiance.
In honor of Veterans Day Terry introduced 102-year-old Staff Sergeant
William J. Kull Retired a WWII Veteran as our guest speaker.
Bill Kull had served 1st Battalion; 12th Regiment in the 4th Division. Bill landed on Utah Beach, fought the Battle of Hurtgen Forest and at the Battle of the Bulge.
Bill shared his experiences during WWII and answered many questions from the
membership. His Bio and experiences are attached for your review and is a good
read. See attach!
As a special treat members shared stories over the years of adventures and
experiences as members of SCTC. They gave great incite of some, and of the character some while expressing a great fellowship and love of the Club.
Overall, the Event was a great success and enjoyed by all who attended.
Special thanks to the grill crew, Greg Guest and Tom Dixon II, Pernilla Scott
and her crew and to the members who provided the wild game appetizers,
John Lavarias-wild boar sausage, Chris Halliday- swordfish, Tom Dixon-
Shrimp dip, and Chuck Becker-smoked yellowtail and yellowfin tuna.
While there was no weight slips or fish stories shared, I have attached photos
of recent catches from Members still out fishing.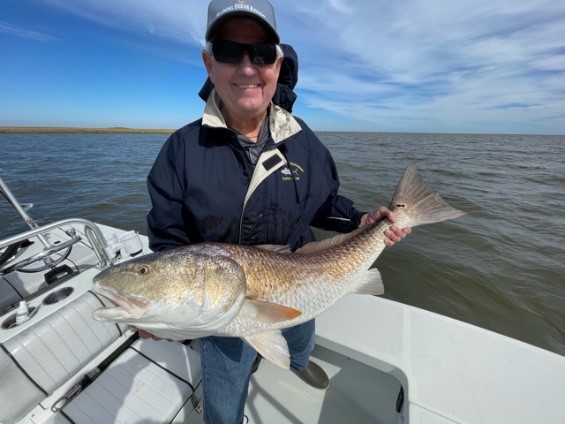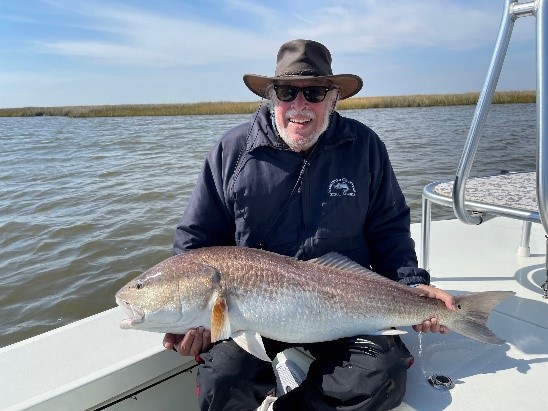 Weekly Updates
11/11/21
Past Presidents Dinner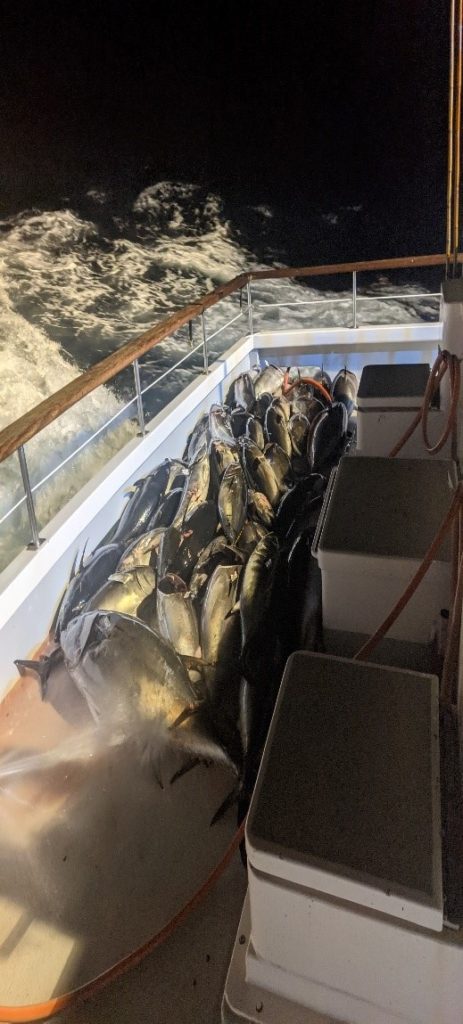 William J. Kull, Staff Sergeant 12th Infantry
Born June 29, 1920
A young husband and father and member of the New York Fire Department when he entered the service in 1944.
Completed Basic Training in South Carolina, then sailed to Glasgow on the Queen Elizabeth, then took a Belgian ship to France.
Assigned to Rifle Co C. 1st Battalion, 12th Regiment in the 4th Division, they arrived just after D-Day and were assigned to replace its casualties.
Landing on Utah Beach, he saw six months of fighting on the frontlines, during which time he was promoted from Private to Staff Sergeant. Fought their way through Belgium and didn't realize he was even in Germany when his unit arrived to fight at the Battle of Hurtgen Forest. He recalled it as "a terrible place". "When we left, it wasn't a forest anymore."
Told to remain a foxhole until pending relief arrived, he found himself alone with the bodies of two enemy dead. Eventually, he realized he'd been forgotten and met two other Americans in the same plight. Not knowing where there Co's had gone, Bill decided they should capture Germans one by one until they found one who could tell them. They caught 13, before they found one who spoke English.
He caught up with other Americans in time for the beginning of the Battle of the Bulge. Continuing to fight not knowing his sergeant had surrendered, he found himself with a German rifle inches from his head. Now a Prisoner of War, it took only a few hours for him to take off, followed by others, and caught up with his remaining company. He been captured and had escaped in the same day!
Against overwhelming odds, his and a couple of other squads continued to fight. Members of the 5th Division arrived to relieve them on Christmas Eve. Travelling by truck back into France, he was sent to hold the Remagen Bridge, only just captured by American Forces. He recalled that once they crossed the Rhine and then went along the Danube, they met with sporadic resistance.
The war in the European Theatre was essentially over and his unit remained as part of the Army of Occupation and shipped back to France. Although he had already earned three battle stars and several citations, his service was not yet over.
He was assigned to make a landing in Japan. The troops were sent secretly back to the US, to a hospital camp in North Carolina. They sailed into NY Harbour on his son's 2nd birthday. Now a Platoon Sergeant, he wrote passes for all his men and saw his own wife. While there, Japan was bombed, he was discharged and returned to the NYFD which he served for 23 years.
He received many medals, badges and citations for his exemplary service including the Order of Leopold II with Palm Degree of Chevalier and the Croix d Guerre with Palm Leaf. He was awarded the Bronze Star with Oakleaf Cluster "for exemplary conduct in ground combat against the armed enemy on or about 12 November 1944 in the European Theater of Operations."
The following is the bayonet charge.
As it turned out, they wanted us to make this hole in the Siegfried line for some green guys from the states to go through. Well, it worked so successfully, that we got elected to make a series of holes along the line. Then we came to woods just outside, Prum. The Fourth Division had taken Achen the first time before the Battle of the Bulge. I believe they were the first ones through the Sigfred line. I really think this is coincidence that we happen to be in that position again. Anyway, the town of Prum was near there too and they had also taken Prum before; now we were going to do it again, hopefully. There was a wooded area between the Sigfred line and the town and we got into that wooded area. Somebody decided we needed a patrol in that area and I think I took a squad to augment Sgt Searches decimated platoon. I went on patrol through the area and we saw Krauts. We couldn't see enough of them to determine how many there really were, but there were Krauts in the wooded area. We go back with that information. By this time we had gotten a new Lieutenant from the States, Ham. What a bum. He came from some military college also, or so he said. Now he decides that we are going to make a bayonet charge through the woods. I said, that's ridiculous, we don't even know what we are charging, who we are charging or anything. I said, are you going to lead the charge? He told me my job was to follow orders and I said, I'll tell you what, I am going to be right next to you, in fact, just a little bit behind you and I'm going to do just what you do. He also wanted me to order everybody to take their ammunition out of their rifles to make sure it was a bayonet charge. I said, If you want to order them to take their ammunition out of the rifles that's up to you but I'm not giving that order nor I am taking the ammo out of mine. He gets everybody in a line and says charge and he takes a couple of steps and then he stops. Now the guys are running and I'm really afraid to hold them back now because if they turn they have their backs to the enemy (and are facing uphill), and if there really is enemy down there, they're liable to get slaughtered so I just told them to lower their rifles and keep going as fast as you can. We are going down hill and I figure the momentum will make it fast and whatever is going to happen, will happen quickly. We did get down to the bottom of the hill and no shots were fired. Then we scouted around through the woods and we captured a few Krauts and that's all it amounted to. I remember the famous bayonet charge. What a guy,(Ham) he stops while the rest charge. Then they decide on another patrol but I'm sure this is a punishment patrol because, again, I was elected to lead the patrol.
and this is the story of Blackie
Blackie is now assistant squad leader. We were assigned to take a town. We were running the ridge overlooking the valley this town was in. When we came abreast the town the Captain sent a German speaking GI down under a white flag to ask for a surrender by a certain time. The time expired and no white flag showed in the town. As usual the Captain ordered 1st platoon to attack. I asked for heavy weapons platoon to cover us. Request denied. Lt Ham is back in the last town shacking up with a woman. I don't like the situation because there is an open field between the woods we are in and the wall of the town. There is also a thin line of bushes and trees running down to the edge of town like a fence for the field. I wanted to go down behind that line of bushes. The Captain says, "no". You'll be single file. He wants a squad out in the back of the woods and then dash down the hill eight or ten abreast. One squad after the other. Can't argue any longer the troops are getting nervous. As usual I oreded 1st squad to go. We barely got in to this clearing when a machine gun from the afore mentioned bush fence opens up. No matter what anyone says, I say, I could see the bullets within inches of my eyes. I put on the breaks and purposely let my feet slide under me so that I would fall backwards away from the bullets and when I turned myself over, I couldn't see anybody. I said, oh man, either they made it into town or they're all dead. I'm facing uphill. I'm closer to the top so I ran back up the hill and then I got a hold of Dos Santos and El Sasser (he apparently didn't get started when the machine gun opened up) because they were still up there and I said, listen, this is stupid – I don't know what happened to the guys, I don't know if they are dead or in the town or what but we have to get rid of those machine guns. Since I made Blackie a sergeant, Dos Santos has the BAR back so I said let's go down the side here and see if we can eliminate the machine guns so that's what we did. In the meantime, I'm burned up over this attack down the hill and across this open place. So I went back to the Captain and I said we eliminated the machine guns on this side but I said I would like to know what happened to Lieutenant Ham again. He said, oh he's back in that last town we were in. He found some dame he's shacking up with. I said that's great. I wish he was here to lead this attack across this field. I said, it's late now and we got rid of those machine guns so we are going to go down now with what guys we had left from our platoon and we secured the edge of town. So by night fall the company had taken the rest of the town. But, low and behold, who got killed going down the hill? Blackie. I couldn't help but feel afterwards that he saw what happened to me and stopped to protect me and then got killed in turn. The next day somebody in the company captured the German Major in charge of the town and I happened to be in the Company CP, I think I was checking out my casualties, and they bring in this major. I had just learned about Blackie being dead and I flew at that major and I really could have killed him with by bare hands. But of course the rest of the guys jumped on me. Well, the major survived but I was sure mad at him and it was the only time I hit a prisoner myself. I was angry that some civilians were killed too and I felt it was that major's fault. I believe that was the Saturday before Easter, 1945.