Weekly Updates
October 28th, 2021
Dennis Friedman called the meeting to order at 6:40 pm with 28 in attendance.
Announcements:
Dennis Friedman…Welcome back to the Southern California Tuna Club in our 97th year.
John Lavarias is personally sponsoring a trip to Queen Charlotte Safari in British Columbia from August 3 to 7, 2022. There are 6 rooms left which can accommodate 12 more people. Call John for information.
Mark your Calendars…Past President Dinner Nov. 11th….
Terry Tysseland will be hosting the Past Presidents Dinner and has put the call out for Members to bring in their game to be used for appetizers. The grill will be fired up and ready for your culinary skills. See flyer below!
Mike Engle reports he is cancer free and buying drinks tonight!!!
Members not seen in a while:
Jim Bateman…. Welcome Back Jim!!!
Guest:
Jim Hardesty introduced Chuck Anderson and Rick Hobby. Welcome Guy's!!!
Good Cheer Report: Co DeCoudres
Co reports that Monte Navarre is at home and doing well.
Hank Brown reports Mike Brown is doing better still in the hospital ICU but is getting stronger. He is still sedated but recognizes voices and faces.
Co reports Pres Smith continues to improve and would like phone calls.
Pres's phone # 562 400-9853
Weight Slips:
Fish Reports:
Don Herman reports taking Jan Martin, Tom Wills and Travis Wills up to Mammoth fishing in the Good Old Boys Tournament. Don reports the tournament is well attended by retired Firemen and Policemen which is always a good time. They fished Bishop and Lake Mary for trout up to 3.5lbs with the tournament winner, a 9.2 lb. rainbow caught by the oldest guy in the tournament. One week later they went back to fish Lake Mary and found the road closed at which point they decided to fish Twin Lakes. They were unsuccessful at Twin Lakes and did not even get one bite.
Past Events: Nothing to report.
Future Events:
……. PAST PRESIDENTS' DINNER…….
Sportsman's Dinner
The Past Presidents Dinner is scheduled for November the 11th at the Club. Flyers went out last week. The entertainment will be members telling their best fish and sea stories …………. there will be an 'open mike' so bring your best (possibly embellished?) fish or sea stories to share. Cost is $60 and menu is wild game hors d' oeuvres, steak, and Key Lime Pie for dessert. Looking for volunteers to bring some wild game hors d' oeuvres so please contact Terry. You can pay online through the club website or send check to Terry Tysseland, 19396 Woodlands Drive, HB, CA 92648. It would be great to see some of the New Members in attendance.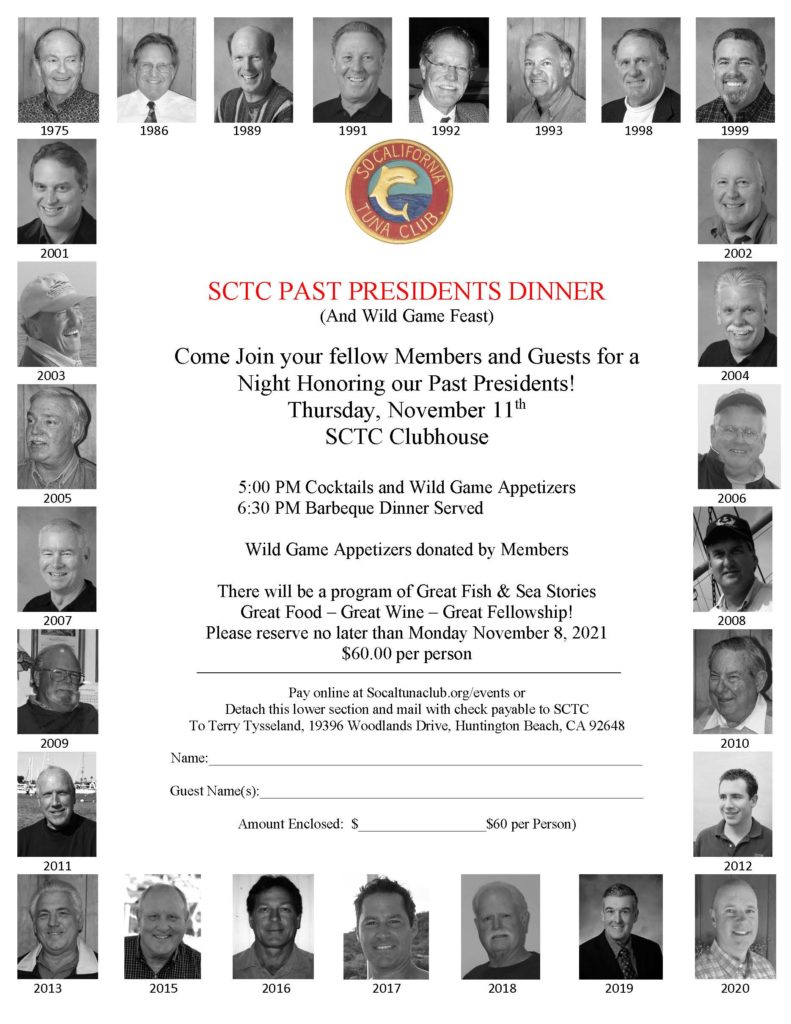 Tom and Jerry Party is scheduled for December the 16th. Stay tuned!!!
IFGA Swordfish Tournament format is not a team format. Anglers need to enter individually at a cost of $350.00 dollars. For more information contact Gus Chabre.
Chuck Becker announced that the Club Pheasant Hunt is on for January 17th, 2022. The Cross and Crescent House has been rented so shooters can enjoy Sunday evening at the hunt site. Contact Chuck for more information.
Paul McEachern announced that the El Salto Fresh Water Trip for 5/16/2022 to 5/20/2022 is filling up but they still have a few openings left.
With no other business, the meeting was called to a close!