Weekly Updates August 26th, 2021
Dennis Friedman called the meeting to order with 25 in attendance.
Announcements:
Welcome back to the Southern California Tuna Club in our 97th year.
A moment of silence was called for Life Member William (Bill) Ridgeway. Bill had been a member since 1963 and will be missed. Rest in Peace Bill.
John Lavarias announced the arrival of the Eddie Bauer Performance fishing shirts. If you ordered shirts, John ask that you pay for them on the club website. Should you have any questions, please contact John 909 208-5707.
2020 Awards Dinner
The Awards dinner this year was postponed until this night due to Covid shutdowns earlier this year. Chris Halliday hosted the event which celebrates outstanding catches by 2020 Club Anglers.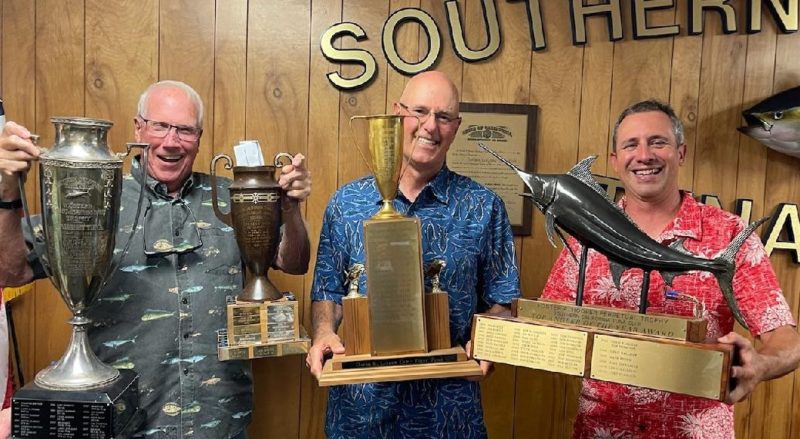 Congratulations to our 2020 Award Anglers
Eric Baum – 2nd Largest Bass -8.1Lb
Joe Vicic – 2nd Largest Yellow Tail 15KG – 31Lbs, Russel M Pray Trophy
Al Hermer – 2nd Largest Tuna 15KG
Jeff Stone – Largest Halibut 14.4lb
Gus Chabre – Largest Tuna 10KG, TD Potter Cup for Largest Tuna on 10kg Tackle,
3rd Place Overall – Steve Leavitt – Largest Yellowtail 15KG – 32Lbs, 3rd Largest Yellowtail 15KG, and Buffum Cup for Largest Yellowtail on 10 or 15kg.
2nd Place Overall– Mike Mundy – Largest Dorado 8KG, Largest Yellowtail 10KG, First Dorado Boat Flag, and the All-Species Award for first button fish of the season.
Chuck Becker – 2021 Hal Neibling,
Curt Herberts, and Jeff Stone International Angler Trophy
Gus Chabre – 2021 Top Boat – 7 Button Fish, 14 Weight Slips, and the First Tuna Boat Flag
Curt Herberts – 2021 Top Angler, Presidents Medal, Largest Tuna 37KG (125Lb), Largest Tuna 15KG, Largest Bass, 2nd Largest Tuna 10KG, Third Largest Tuna 10KG, Third Largest Tuna 15KG,
Fred Hershorn Ruby Button for Largest Button Tuna, Wood-Jackson Arms Co Trophy for Largest Tuna on 10 or 15KG, Western Savings Trophy for Largest Tuna on 10 15 or 37KG, and David R Linder Cup for First Tuna on 10 or 15KG.
.
Special Thanks!!! to Chris Scotts wife Pernilla for the wonderful food, The barbeque boys, Greg Guest and KC Coultrup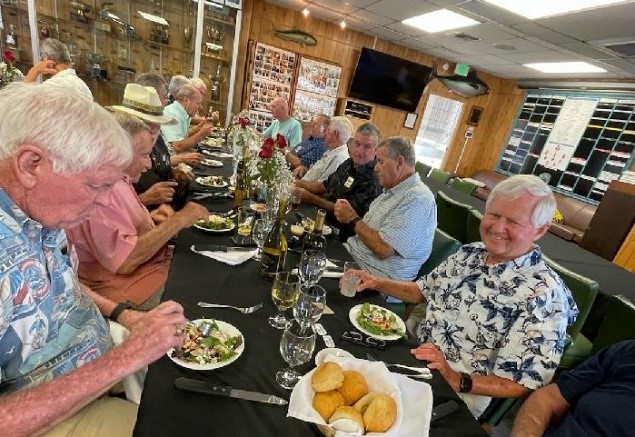 As all weight slips submitted this week were from the Intra-Club Tournament and the fact that many fish were caught during the Tournament, the results will be condensed in the Past Event report.
Past Events:
The Inter-Club Tournament was held this past weekend. The turnout was great success, and many fish were caught. Chairman Larry Drum held the Awards and Dinner at his Catalina house Saturday evening.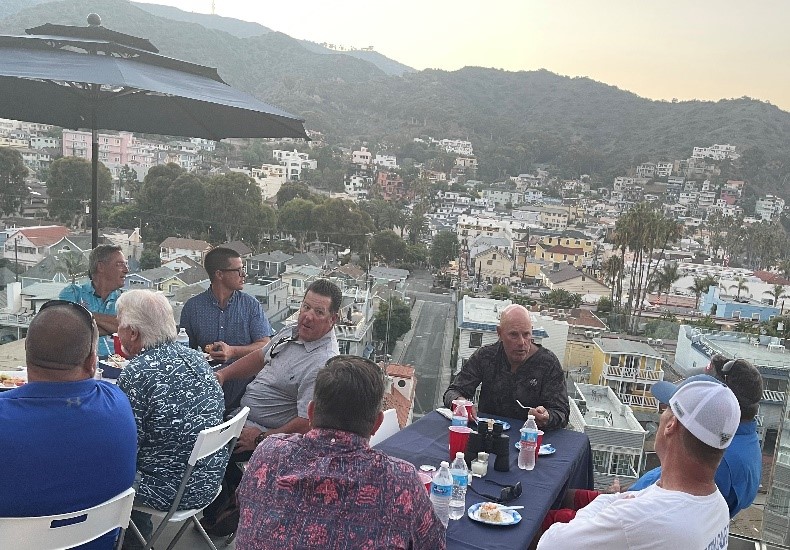 The Top Boat Award goes to the Apparition skippered by Jeff Clary.
Jeff and crew Arnie Robles caught 4 Bluefin from 42.3-69.9 lbs.,
1 Yellowfin, 37.7lbs and 1 Dorado earning the Boat 16.5 Points.
Mike Mundy and crew of Mundy Mooring earned 6.6 points with 5 Yellowtail and 3 Dorado.
Gus Chabre and crew of Rendez Tous earned 5.5 points with 2 Yellowtail and 2 Bluefin.
Don Herman and crew of the Hermelia earned 5 points.
Other notable catches include the crew of the Unreel with Dennis Friedman, Ethan Hough, and Tom DeJager with 12 Dorado and 1 Yellowtail.
Individual Catches are as follows:
Arnie Robles on the Apparition…69.9lb Bluefin
Gus Chabre on Rendez Tous …67.6lb Bluefin
Jeff Clary on Apparition… 65.7lb Bluefin
Thom Ryan on Sea ya Mundy… 15.5b Yellowtail
Andrew Weiske on the Sea ya Mundy… 15.5lb Yellowtail
John Burquist on Sea ya Mundy… 14.0lb Yellowtail
Ray Ortiz on Mundy Mooring… 17.9 Dorado
John Burquist on Sea ya Munda a 150lb Black Seabass / Released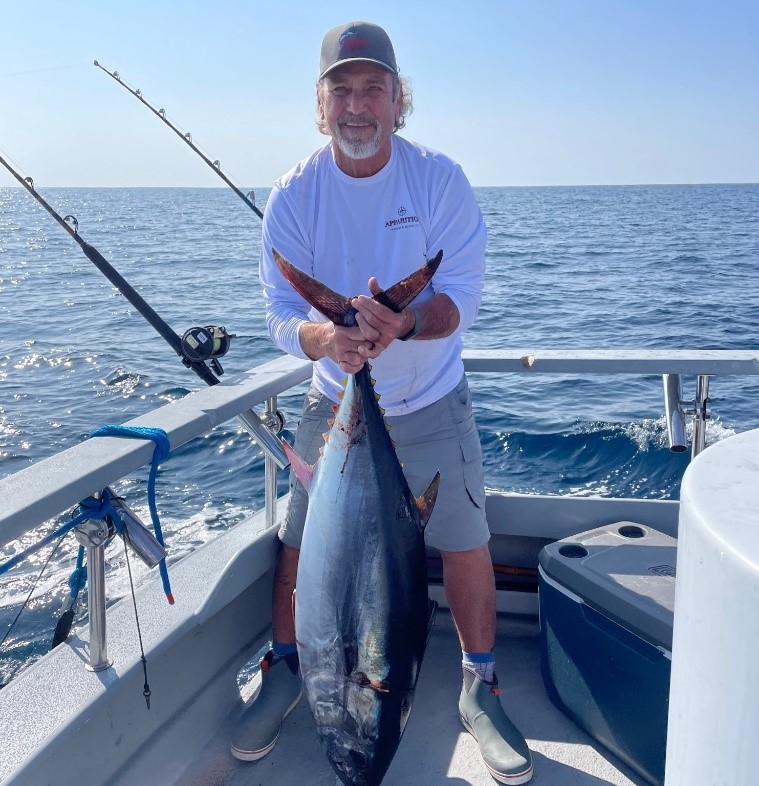 Future Events:
Cedros/ Sept 17th… The Cedros trip is sold out. However, Mike is also taking backups. Should you have any interest or questions please contact Mike Engle 949-266-7804.
Stagg Trip…The Stagg Trip is on!!! October 1st to the 2nd Joe Vicic has promised and EPIC Event. Lots of prizes up for grabs!!! Scheduled to take place October 1st and 2nd out of Cherry Cove Catalina. Check website for info. Flyers are out and on the Web Site under events. Signup soon. ….NOTE…. Contact Fred Westberg in you require a mooring.
Couples Trip Costa Rica December 1st thru 6th.
Cor reports that last Sunday the CDC put out a travel advisory for Costa Rica. They do not recommend travel to this country due to Covid. Therefor the Costa Rica Couple trip has been cancelled at this time. Cor will be working to return deposits to anyone who had paid. Cor has been in contact with the Hotel. They state they will be refunding any deposits which they are holding. When these deposits are returned Cor will advise members and schedule refunds. Also, some deposits which are currently held by the Club will also be refunded.
IFGA Swordfish Tournament… UPDATE!!!!
No Club Team… Max 4 anglers per boat. Fishing the 12th & 13th
of November. Catch & Release prizes for fish under 100lbs, weigh stations (San Diego, Newport, and Ventura) for fish over 100lbs. $300.00 dollars per angler. IFGA rules apply. Contact Gus Chabre for info… Also, if you are looking to fill out your crew for this event contact Tom Dixon as Tom and his son looking to participate.
The early bird discounted registration fee for the Open ends on September 1, 2021! Register by September 1, 2021, to secure the price of $300 per angler. All registrations after September 1, 2021, will have a price of $350 per angler.
Don't miss out on your discounts, for this exciting new tournament coming to Southern California! Register today!
The second Pacific Dawn trip is scheduled October 17th thru the 19th. Al Hermer reports a couple of spots available. Cost is $1,150 dollars. If you interested on going contact Al Hermer or Mike Engle ASAP as spots are expected to fill up soon!