August 5-8
August 31-September 2
Committee: Al Hermer, Mike Engle & Ken Calof
Trip 1
The 1st Pacific Dawn trip was originally scheduled earlier in the year as a White Seabass trip to the Channel Islands but was cancelled due to inclement weather. The trip was then rescheduled to August 5-8 and leaving San Diego out of Fisherman's landing to fish offshore for Dorado and Bluefin Tuna.
The group of 12 SCTC members and guests arrived at the landing preparing to board the boat. However, the trip didn't get off to a good start as it was delayed due to the scheduled second Captain being involved in an auto accident. The group was told the trip may have to be cancelled if a replacement second Captain cannot be found. The group was allowed to board the boat where they could relax and possibly spend the night since they were stranded. Finally, at around 10PM they were informed that a second Captain was located and, on his way, but the trip would have to be shorten by ½ day. Being the best option, they agreed, and they were on their way.
The weather was predicted to change so they decided to fish kelps for Dorado day one and Bluefin Tuna day 2. Day one was successful as everyone caught limits of Dorado with a few Yellowtail mixed in. That evening the weather turned stormy and it was a rough night. The next day fishing was tough due to the post storm water conditions. They looked for fish all day but, in the end, very little was caught on day 2.
Jackpot winner day 1 was Mike Contino $120
Jackpot winner day 2 was Jim White $120
Trip 2
The Long Range Pacific Dawn trip 2 was intended to be a 2 ½ day trip targeting Bluefin Tuna for 12 SCTC anglers, but this trip could only field 7 anglers. The group arrived and the landing and boarded the boat without any drama this time. The chef was very accommodating preparing the guys sandwiches and clam chowder, which was highly unusual for this type of trip. Maybe they were trying to make up for our last trip. After talking to the captain, it was decided to fish Dorado on day 1 and Bluefin Tuna on day 2.
Day 1 provided fantastic fishing with a stop or two with the bite going nonstop. By day's end everyone had their limits of Dorado. Day 2 was a different story. It was a long day as they looked for Bluefin for about 12 hours without a sighting. They had not fished all day and the crew started cleaning the boat…the usual sign of we're done and going home. But then around 5pm fish were spotted on the surface, and we went for them. At last, they were on the Bluefin, and everyone was hooked up for the next 2-3 hrs. They took a break and napped while getting ready for dinner. At 10pm the captain metered the fish at 200 ft. They started dropping their jigs and everyone was hooked up again. It was a very eventful night and by the end the group had their full limits of Bluefin Tuna.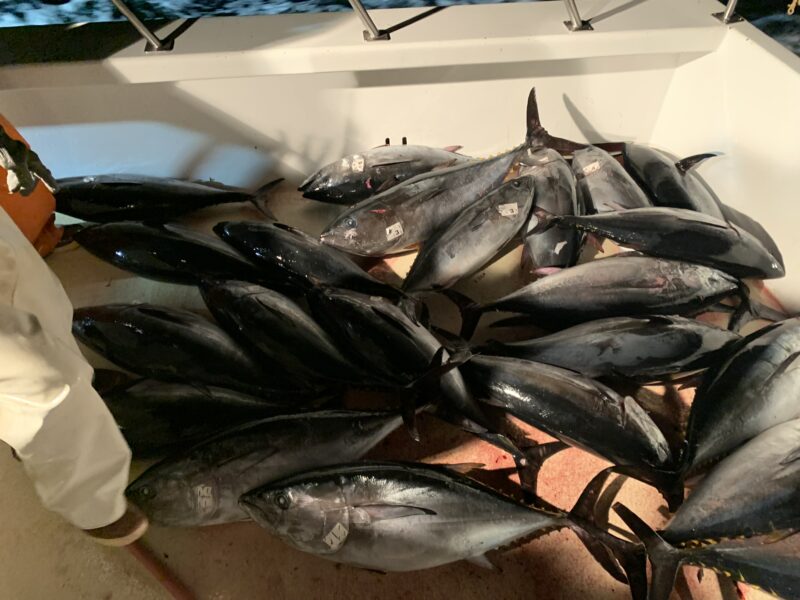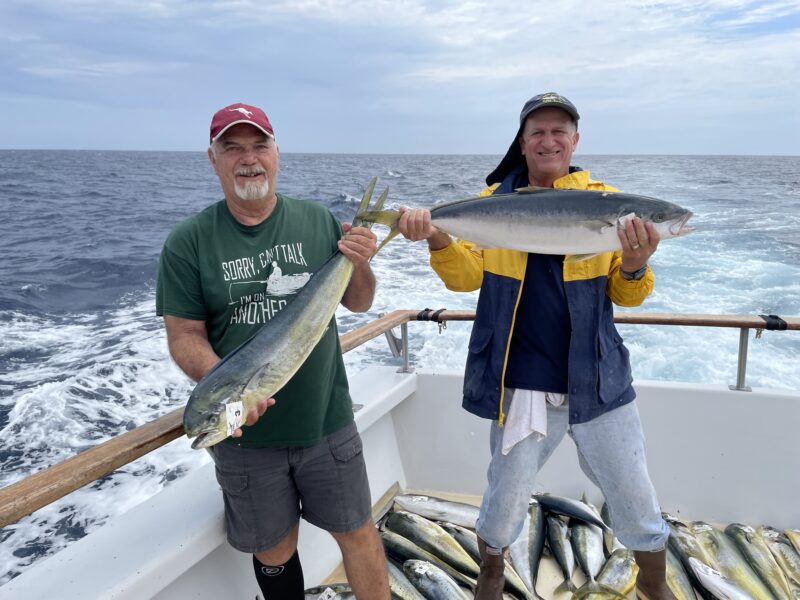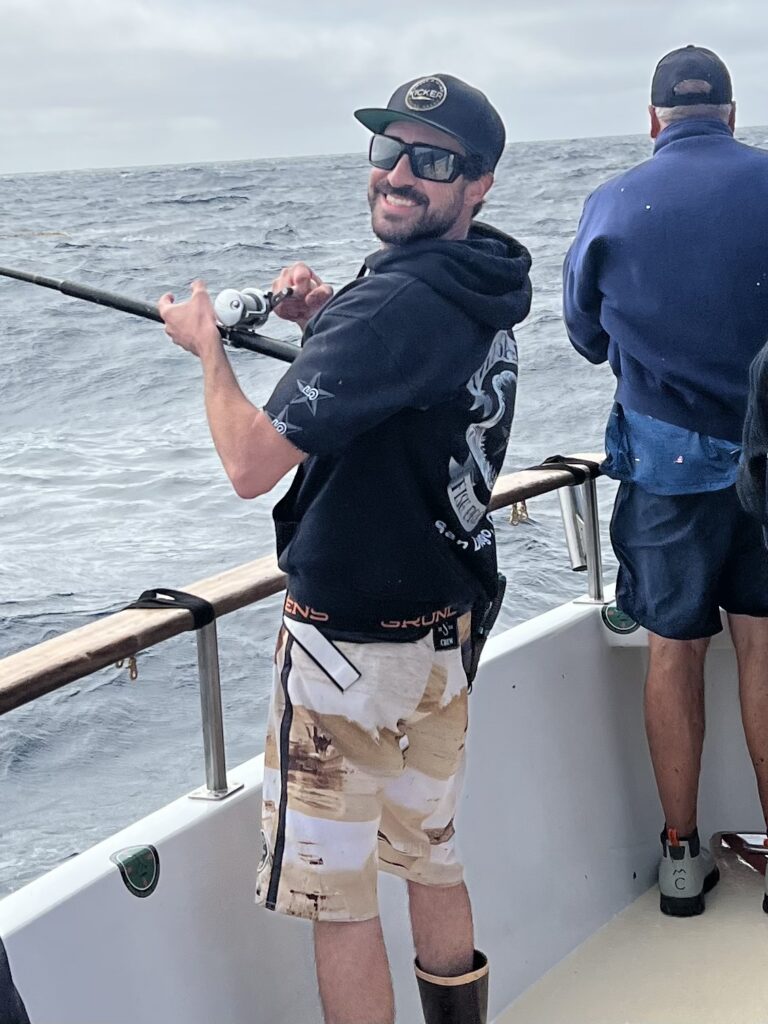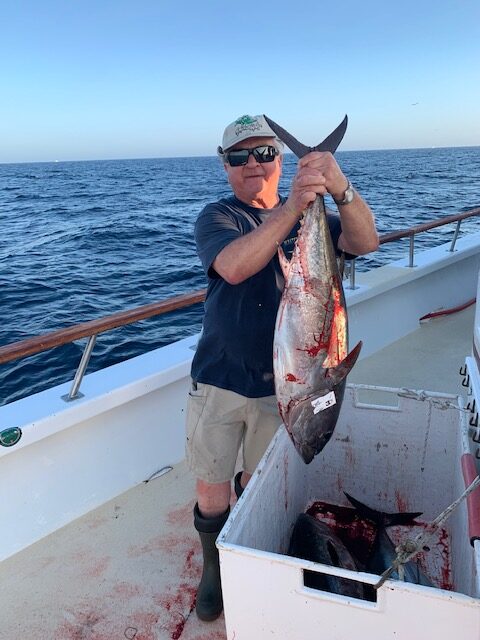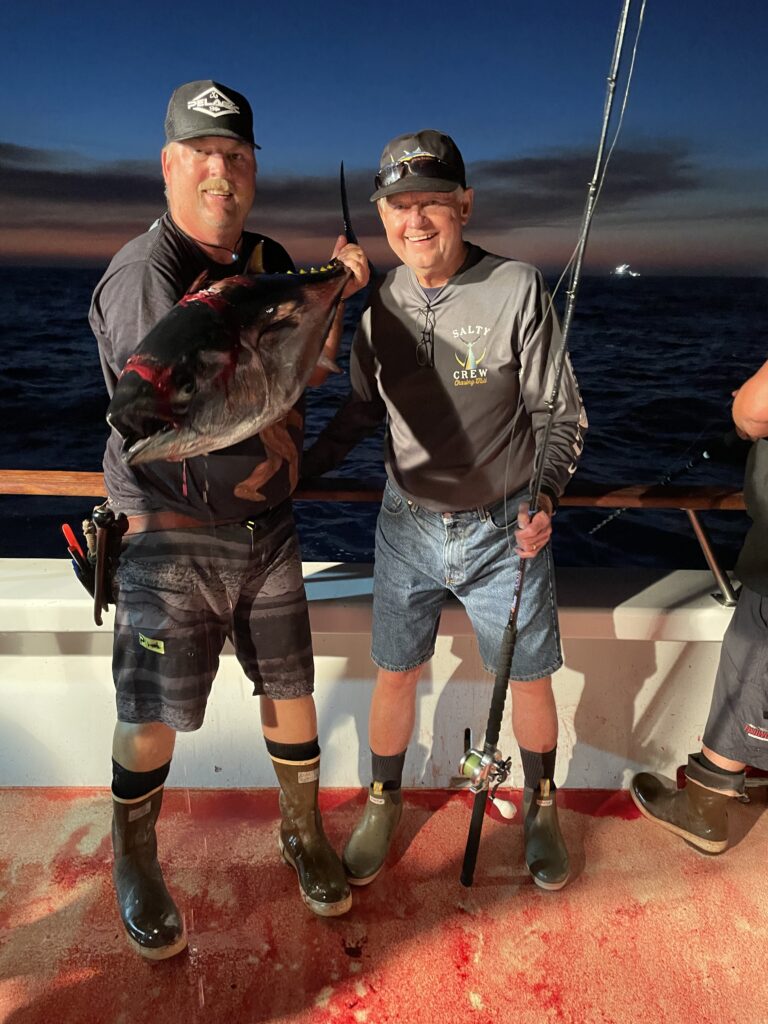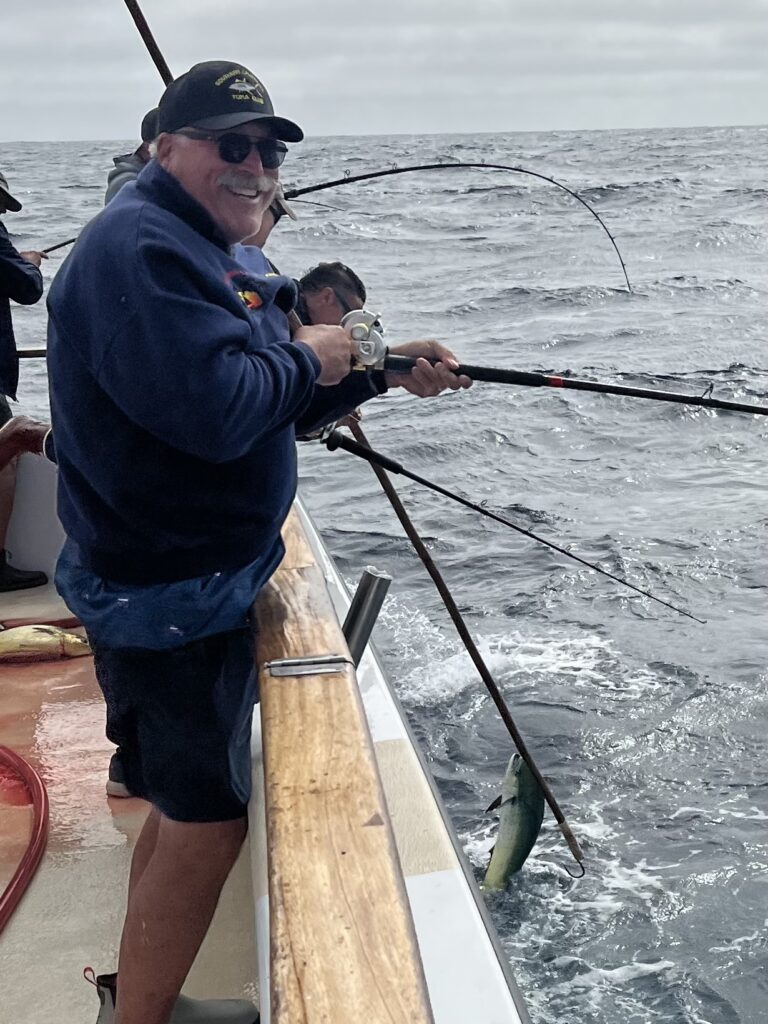 Jackpot winner Day 1 Tani Poe
Jackpot winner Day 2 Terry Tysseland