Weekly Updates August 12th, 2021
Dennis Friedman called the meeting to order at 12:29 pm with 37 in attendance.
Announcements:
Welcome back to the Southern California Tuna Club in our 96th year.
Tom Dixon has the new membership cards and Year Books. See Tom for yours…
John Lavarias announced last call for special order fishing shirts. Contact John if you have an interest.
Members not seen in a while: Curt Herberts and Jim Andrews, Welcome Back!
Guest:
Joe Petro
Johnathan Scott… Welcome !!!
Good Cheer Report:
Al Herzog had a fall and has minor concussion.
Bob Herzog had a fall but doing alright.
Pres Smith is waiting for a test result prior to heart valve surgery.
Weight slips
Gus Chabre's son-in-law Mike Hardy caught a 24.3 lb Bluefin on 15kg using a sardine for bait on Gus's boat Rendez Tous at the slide at Catalina
Curt Herberts also fished with Gus and caught a Bluefin on 15kg mono using a sardine 28.8lbs also off the slide at Catalina.
Gus Chabre caught a 19.9lb Bluefin on 15kg off the slide at Catalina with a sardine.
Chris Scott son Johnathan Scott, also on Gus's boat caught his first Bluefin, 21 lbs on 15kg mono using a sardine off the slide at Catalina.
Tom Schlauch son, Pat caught a 67 lb Bluefin using a jig on 24kg mono aboard the Dreamer.
Fish Reports:
Hank, A shorty report and some pics of a trip my wife and I made to Mammoth last weekend. We stayed at Tamarack Lodge to relive our past trips from many years ago. Nothing much had changed. We tubed Lower Twin for three sessions in the mornings. We were fly fishing with an intermediate line, Rio 4X tippet and a small olive leach pattern. Overall fishing was very slow, especially for the shore anglers. We did pretty well, managing to hook 6 very nice rainbows up to five pounds and netted three of them. Two nice dinners and lots of rest and cocktails.
Love that place even though the smoke was pretty thick when we arrived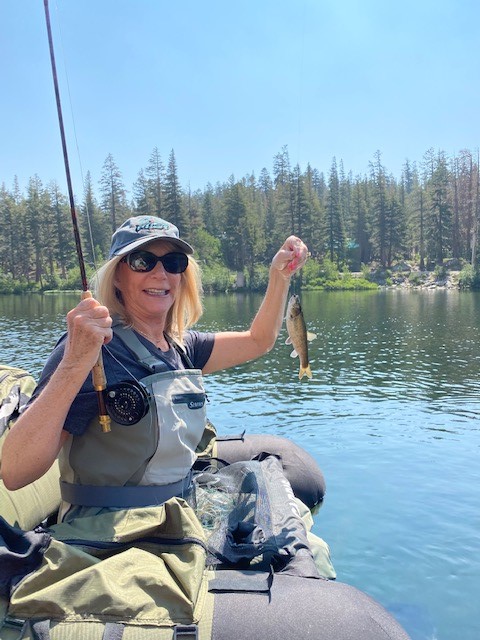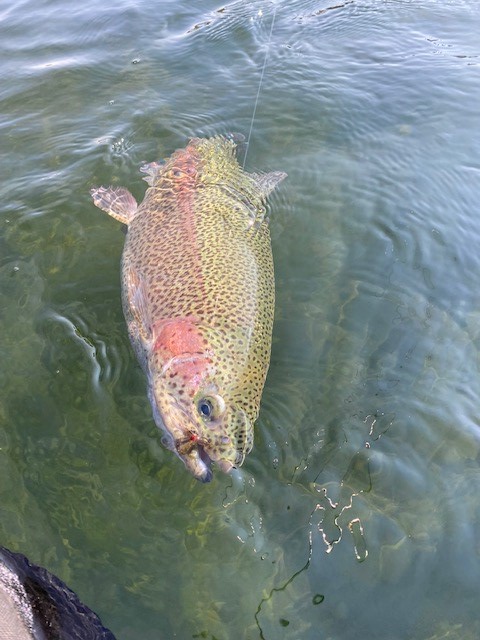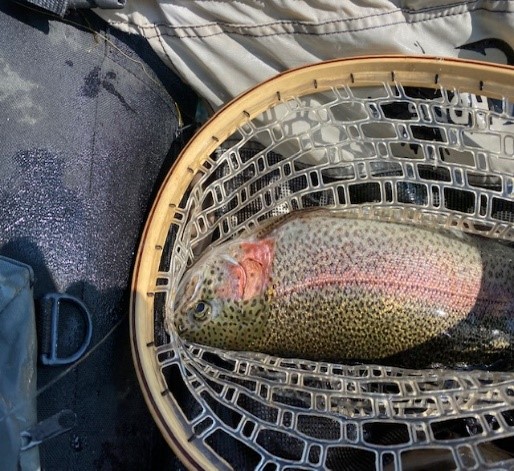 Thanks for the Photo's John
Continued:
Gus Chabre reports leaving the dock at 5am with Curt Herberts, Mike Hardy, Chris Scott, and Jonathan Scott on board. They headed for the east end of Catalina. Gus continued to report 4 Bluefin tuna caught and then turned over the report to a very fast paced, very animated very vocal Chris Scott, (no surprise??) who went on give a detailed account of his son Jonathan's first Bluefin Tuna. I have decided to shorten his report!!! This is the same guy who I let gaff my 61 lb Seabass… No Worries???????
Congrats to Jonathan Scott, Nice Catch!!!!
Al Hermer reports the 2 ½ day trip on the Pacific Dawn to be a great success. The trip started out on the outside of Pyramid Cove, San Clemente Island for some very good Yellowtail fishing. These fish were between 15 to 25lbs. After the bite died the boat headed to an area approximately 15 miles off Oceanside. In route they encountered many Bluefin foamers which showed no interest in bait, jigs, or poppers except for two yellowfin and 1 Bluefin. The boat continued its way and began to find success as a slow pick on meter mark fish until dark. Once dark the fishing using DK jigs or Flat Falls and sinker rigs was pretty good.
All-in-all the fish was a great time, in very good weather with outstanding service and food provided by the Crew.
Tom Schlauch with his son-in-law and a couple of friends took the Dreamer down the line headed for the 14-mile bank and the 267. They were dragging a spreader bar and a daisy chain looking for the Bluefin. They managed 5 tuna and 1 marlin (caught & released). Tom suggests dragging spreader bars way back behind the boat, at least 150 to 200 yards.
Thom Ryan went on a company charter aboard the Grande. They managed to get as far as the bait barge in San Diego before one guy begin to have a panic attack and stated he needed to get off the boat. They waited until a skiff from the landing arrived to take him off the boat before continuing to an area 20 to 25 miles off Oceanside. They managed 41 Bluefin from 20 to 35 lbs with a couple at 45lbs. Additionally they caught a couple of Yellowfin.
Past Events:
Trophy Shoot… Paul Rybak reports a great event with 11 members and 7 guest attending. Paul gave a special thanks to Don First, Jan Packard, Paul Harris and SKB events.
Everybody attending received a prize with Tyler Jackson taking 1st place shooting 88 out of 100, Don First taking 2nd shooting 82 out of 100 and Jan Packard taking 3rd shooting 78 out of 100.
In Trap Jeff Magnall shot 24 out of 25.
In Skeet Jan Packard shot 24 out of 25.
In sporting clay Tyler Jackson shot 44 out of 50.
All enjoyed a Taco Bar lunch.
Future Events:
Intra Club Tournament…
Larry Drum announced the Intra-Club Tournament will be held August 20 & 21st. Start registering your boats and crews on the Club Website now. Once on the website, go to the Event and sign up. Should you have any questions contact Larry Drum.
*******AWARDS DINNER*******
Steaks & Raffle Prizes! Don't miss this one!!! August 26th doors open at 5pm… Sign up on the Club Website or contact Chris Halliday for any questions. Guests are welcome…The event will be held at the Club. Come honor the outstanding catches for 2020.
Cedros/ Sept 17th… The Cedros trip is sold out. However, Mike is also taking backups. Should you have any interest or questions please contact Mike Engle 949-266-7804.
Stagg Trip…The Stagg Trip is on!!! October 1st to the 2nd Joe Vicic has promised and EPIC Event. Lots of prizes up for grabs!!! Scheduled to take place October 1st and 2nd out of Cherry Cove Catalina. Check website for info. Flyers are out and on the Web Site under events. Signup soon. ….NOTE…. Contact Fred Westberg in you require a mooring.
Couples Trip Costa Rica December 1st thru 6th.
Cor reports that last Sunday the CDC put out a travel advisory for Costa Rica. They do not recommend travel to this country due to Covid. Therefor the Costa Rica Couple trip nas been cancelled at this time. Cor will be working to return deposits to anyone who had paid. Stay tuned for further announcements and updates.
IFGA Swordfish Tournament… UPDATE!!!!
No Club Team… Max 4 anglers per boat. Fishing the 12th & 13th
of November. Catch & Release prizes for fish under 100lbs, weigh stations (San Diego, Newport, and Ventura) for fish over 100lbs. $300.00 dollars per angler. IFGA rules apply. Contact Gus Chabre for info… Also, if you are looking to fill out your crew for this event contact Tom Dixon as Tom and his son looking to participate.
2nd Pacific Dawn 2 ½ Day
The second Pacific Dawn trip is scheduled October 17th thru the 19th. Al Hermer reports a couple of spots available. Cost is $1,150 dollars. Ifd you interested on going contact Al Hermer or Mike Engle ASAP as spots are expected to fill up soon!
Their being no other business the meeting was adjourned.