SOUTHERN CALIFORNIA TUNA CLUB
WEEKLY MEETING JULY 8, 2021
CALENDAR CHANGE: The evening meeting scheduled for Thursday, July 29th has been changed to Thursday, July 22nd. Thursday, Jul 29th will be a lunch meeting and we will have a surprise guest.
Dennis opened the meeting welcoming everyone to the Southern California Tuna Club in our 95th year.
GUEST: Tom Schlauch introduced his son John. Welcome John.
GOOD CHEER: Dr. Dick Bell was with us today, after his experience horseback riding. He is doing well. Don First reported that Vic Rains is doing alright and would like to have calls from members, and email him some jokes.
Weight Slips: None
Fish Reports: John Lavarias went fishing last Thursday and Friday to Santa Rosa Island on the Pacific Islander. They were able to catch some White Sea Bass and Halibuts one day then moved and targeted the Big Reds. The water was calm. As he was walking to his car one of the deckhands stopped him and asked him to wait. The deckhand went to his car and came back with a picture of the Southern California Tuna Club 1999. In the first row were the officers: Doug Boynton, President Mike Mundy, Jack Ward and Jim Bateman. The Top row were the Directors: Dave Woody, Jim Pollock, Pres Smith, Lyle Wright. Lynn Fasnacht, and Dan Mundy. The picture is available in the Clubhouse for everyone to see. Dick Bell went fishing in the Middle Branch of the Salmon River in Idaho and caught some trout. Tom Schlauch updated us on the Blue Fin, the week began with them down in Oceanside and moving up to Long Beach, they were in the 60 – 70-pound range, and were down below the smaller ones.
Upcoming Events: July 22-27, the Annual Alaska Trip to Shelter Cove Lodge in Craig Alaska. August 6th, Long Range Trip #1 on the Pacific Dawn, Contact Mike Engle or Al Hermer.
August 11th, will be the Annual Club Trophy Clay Shood,contact Paul Rybak.
August 20-21, will be the Intra Club Tournament. Contact Larry Drum. After the tournament, Larry will host the dinner at his home on the Island.
September 2nd will be the Awards Dinner. Contact Chris Halliday or Drake Smith. September 17-22 will be the Cedros Trip,contact Al Hermer or Mike Engle.
October 1-2 will be the Fall Stagg Trip, contact Joe Vicic
Cor said the Couples trip to Costa Rica is filling up, he still has room for 2 or 3 couples.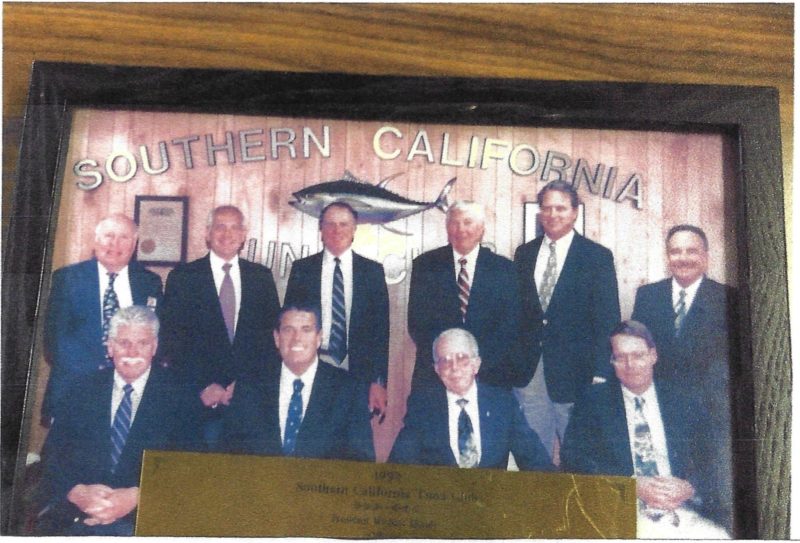 Tight lines,
-<5
Tom Dixon