Weekly Updates June 29th, 2021
Dennis Friedman called the meeting to order at 12:24 pm with 32 members in attendance.
Announcements:
Welcome back to the Southern California Tuna Club in our 96th year!
Tom Dixon has the new membership cards. See Tom for yours…
Doug Drummond presented new member Glenn Groen. Welcome Glenn!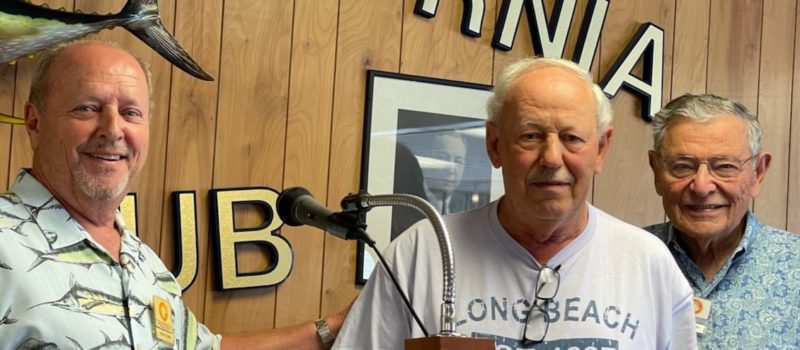 Members not seen in a while: Keith Pringle & Paul Rybak
Guest:
Tom Ryan brought friend Mitch Barber! Welcome Mitch!
Good Cheer Report:
Dan Mundy Went to visit Lew Earlabuagh. Dan reports that when he visited Lew the nurse was their but soon left. As soon as the nurse left Lew got up and hobbled over to the whine closet and they both proceeded to enjoy a bottle of whine together. And yes, Lew is doing better…
Weight slips
Fish Reports:
Andrew Weiske and Thom Ryan were on a company trip on the Grande out of San Diego with 25 people on board. They pushed off at 11:00pm and headed 30 miles off Ensenada. The fishing for Bluefin was good for those using the knife jigs. The boat had limits by 10am.
The fishing on the Kids Trip in Mexico was great. Marlin, Tuna Dorado were all in the mix. (See past events report)
Hank Brown was in Missoula Montana for the past week and took two float trips, flyfishing. The trip down the Blackfoot River was great. Rainbows, Cutthroat, and Browns were all in the mix. The weather was overcast with rain and hail encountered at the end of the float. 3 days later he floated the Clark River where the fishing was slow due to bluebird skies and the mercury in the 100* mark.
Don Herman and his wife Mary Sue fished Crowley Lake using fly rods with 3 flies and 30-foot leaders. This was a local secret which produced a 22-inch brown, a 19-inch cutthroat and many others.
Jeff Stone was fishing at his place in Oregon with hot temps of 105 degrees. Jeff fished from 5am to noon catching 3 steelhead.
Keith Pringle fished Flaming Gorge 2 weeks ago and found low water flow. He fished for 3 days catching 10 to 15 fish per day.
Past Events:
Kids Trip was a great success but not without some challenges for some. 4 to 5 people did not get their passports in time for the trip. However, 35 people were on the trip and enjoyed a great time. The first day of fishing was met with angry winds and seas which sent some to the inshore waters. While fishing inshore due to the weather the kids caught enough fish to keep all busy. When the weather permitted offshore fishing for the Kids & Adults was great. The catches included Marlin, Sailfish, lots of Rooster fish Tuna etc. Thom Ryan reports that
Continued:
the kids had 4 to 5 grand slams and 2 super grand slams. Outstanding trip.
If you are interested in going, this is and EVENT which everyone who participates has a great time creating memories with kids and grandkids.
Next week's meeting will have photos & videos will be played during lunch.
Future Events:
Catalina Couples Trip:
The Catalina Couples needs participants. It is scheduled for July 15th through July 17th. If you are interested contact Cor Claus soon as this event is approaching quickly
Trip Alaska:
Terry reports everything is set to go. ***There will be a pre-trip meeting tentatively scheduled for July 13. If you have questions call Terry Tysseland. 714 791-5319
Intra Club Tournament…
Larry Drum announced the Intra-Club Tournament will be held August 20 & 21st. Start registering your boats and crews on the Club Website now. Once on the website, go to the Event and sign up. Should you have any questions contact Larry Drum.
Pacific Dawn Trip…
Mike Engle reports both the August trip and the October 2 ½ fishing trips are full. However, he is taking anyone who may want to be put on the wait list. The cost is $1,167.00 plus $150.00 dollars for food. If you have an interest, please contact Mike Engle. NOTE…for those who are going on the August trip the balance is now due. Please make your check out to SCTC and send to Mike ASAP.
Trophy Shoot is scheduled for August 11th It will be held at LA Clays. Everything is brand-new. Keep the date in mind and should have any questions contact Paul Rybak 562 201-19213
Cedros/ Sept 17th… The Cedros trip is sold out. However, Mike is also taking backups. Should you have any interest or questions please contact Mike Engle 949-266-7804.
Stagg Trip…The Stagg Trip is on!!! Scheduled to take place October 1st and 2nd. Check website for info. Flyers out soon!!!
Couples Trip Costa Rica December 1st thru 6th. Cor has opened the trip to friends or guest. There is room for a few more couples if you have an interest. Also, he has made accommodations with the resort for couples who may want to arrive earlier or stay longer at the same room rate at the Resort.
IFGA Swordfish Tournament… UPDATE!!!!
No Club Team… Max 4 anglers per boat. Fishing the 12th & 13th
of November. Catch & Release prizes for fish under 100lbs, weigh stations (San Diego, Newport, and Ventura) for fish over 100lbs. $300.00 dollars per angler. IFGA rules apply. Contact Gus Chabre for info… Also, if you are looking to fill out your crew for this event contact Tom Dixon as Tom and his son looking to participate.
And as a final note, Ray Ortiz was recognized by Club Members for taking on the sinker program which all members benefit from.
Thanks Ray!!!
With no other business the meeting was called to a close