Weekly Update
9-8-2022 Meeting
Welcome to the Southern California Tuna Club in it's 98th year – our founding document shows our actual birthday as August 15th, 1925. Terry Tysseland called the evening Meeting to Order at 12:15 PM with 36 members in attendance.
Announcements:
Today we Rang the Bell, had a moment of silence and celebrated the life of Tom Scott, long time Senior Member since 1981 who passed away on Wednesday 8/24/22 afternoon of complications due to Covid. He had skin cancer for over five years where there have been multiple operations and he he's had glass particles in his lungs (pulmonary fibrosis) and other issues. Covid put him in the hospital and then issues began to compound. He was in the hospital for over a month and recently in the ICU at UCI.
Greg Owens did a beautiful eulogy. It saddens me to inform all of you we have lost one of our long-time members, my best friend, and a good friend to all of you, Tom Scott. Tom loved the Southern California Tuna Club and each and every one of you. Some of the best times and experiences of our lives were enjoyed with all of you at our incredible Clubhouse weekly meetings. The camaraderie, the bar, the jokes, discussion of past and future events, times were simply the best.
Tom made life worth living, he was always there with a helping hand, most of the time behind the scenes, never wanting or seeking credit, he was just there for his friends and all the organizations where we were involved.
Tom leaves behind his lovely wife Cheir, his two sons, six grandchildren and hundreds of friends.
There will be a celebration of life in the near future, we're attempting to create a date that will allow family and friends to attend.
After Greg's eulogy the 'opened mike' was passed to members who had wonderful stories many involving the Tuna Club about Tom starting with Jack Anderson, Jeff Stone, Paul Rybeck, Paul McEachern, Dave Woody, which went on for over an hour. A beautiful tribute to a great guy, great football player, great shooter, great swimmer, great fisherman, great businessman, great SCTC member that died way too soon. Rest in peace Tom!
John Lavarias has deal for a logoed AFCO jacket sale. You can order it on line and there is deadline of September 16th. The jackets are grey and logoed and available to purchase at the bargain price. They can be purchased online and or at the next Thursday's meeting. See John. He will be sending a follow-up email with final cost and payment details.
We are running a deficit year to date of $1,700 for lunches. Please RSVP to Ken Calof weekly of your intention to have lunch and please remember pay for your lunch so we can make up this deficit by year end. Also, when RSVPing please just 'Reply to Ken' so the email goes just to Ken and not 'Reply All' so it is sent to the entire club filling up many 'Inboxes" unnecessarily. Thank you for your attention to this request.
Jim Bateman has a 2KG rod that was donated by Mas Itano to be sold 'to the highest bidder' or '$50 and take the rod home'. The proceeds go to the Foundation. This is a great rod for the Dorado they are catching now.
I heard from Doug Boynton who relates that Al Herzog has moved to Anaheim and would like to come to the lunch meetings but has no transportation. If anyone lives near Anaheim he would appreciate a ride. He is also looking into Uber. Call Al if you have a chance at his new number 562-754-5957.
Attention Members
There have been changes to the Club Calendar of Events:
Past Presidents and Sportsman Dinner is now 11/3/22
Couples Trip is now scheduled for 11/12 thru 11/17/22 – see details below in Future Events section.
The Tom and Jerry Party is now scheduled 12/15/2022
Members not seen for a while:
Jeff Stone
Curt Herberts
Jeff Clary
Warren Gunter
Jim Andrews
Guests: none.
Good Cheer Report:
Al Hermer – has spinal stenosis and had a surgery on August 30th for a spinal fusion. He is in significant pain but says he can't wait to go fishing. We are holding a good thought for Al's surgery and a speedy and complete recovery.
Bob Briggs – still in significant pain, went to another doctor for another opinion and will be having a surgical procedure on next Tuesday.
Dave Woody is in the house after recovering from Covid. Both he and Lorraine have fully recovered from Covid.
Jeff Stone – is in the house and celebrating completing his last and 42nd radiation treatment for prostate cancer. Jeff said now he can and will come to Thursday lunches again. Great to see Jeff here!!
New Members: None.
Weight Slips:
BG Williams – 8/27/22 – at the young age of 94 YO caught a Striped Marlin – T&R – boat Sub Chaser – Captain Gary Graham.
Larry Krueger– 9/3/22 – 10.1 # Dorado – boat Apparition – Captain Jeff Clary.
Jeff Clary – 9/3/22 –11.8# Dorado – boat Apparition – Captain Arnie Robles.
Jeff Clary – 8/26/22 – Marlin – T&R – boat apparition – Captain Jeff Clary. Jeff says he was fishing for Dorado and not even trying to catch a Marlin.
Jeff Clary – 9/3/22 – 11.2# Dorado – boat Apparition – Captain Arnie Robles.
Ken Huss – 8/11/22 – 21.2# YT – boat Options – Captain Wes Flesch.
Paul McEachern – 8/27/22 – 17.2# Dorado – boat Chaser – Captain Seam McEachern – Silver & Yellow Button.
Paul McEachern – 8/27/22 – 15.8# Dorado – boat Chaser – Captain Sean McEachern – Bronze & Green Button.
All awards must wait 15 days to clear Tackle Committee review.
Fish Reports:
Phil Capricco – was fishing at the east end of Catalina and found a school of Dorado. Phil's friend Miles caught a 48# Dorado and also caught a marlin on an eyecandy mean joe green.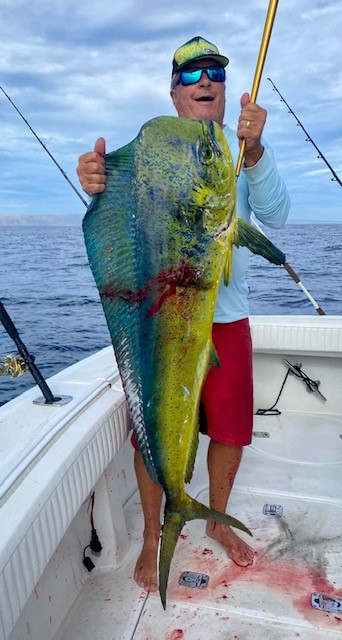 On September 7 Dan Mundy took his boat Sea Ya Mundy along with his son-in-law Sean Froelich and three grandsons. They were on their way to the 277 when they heard about BF a mile off Church Rock. They went over there dragging a spreader bar through them and got one at 100# and another taped in at 138# and also got a YF on the same spreader bar. And later three Dorado on bait. Dan says, "a pretty good day!"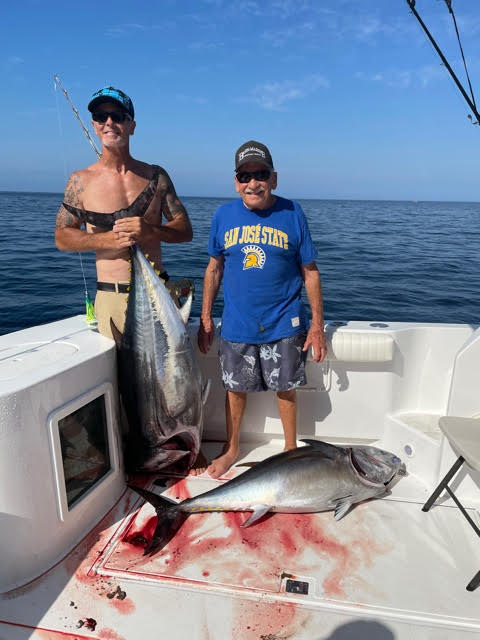 Eric Baum – reports that he had one of his best weeks of fishing last week. Early in the week – albacore out of IIwaco, WA. For those of you that have not experienced the inlet/sandbar, it is an adventure. Ended up with 400# of fish in the cannery. Later that week, chartered the Blackjack, out of Dana Landing, to take Ben, his youngest son out. Fished 10 miles south of the 425. Limits of BF, he tugged on and they released a Mako and he caught his first YT and BF. Happy dad day and he is now a fishing fool. Just what Eric needed!!!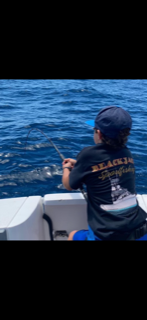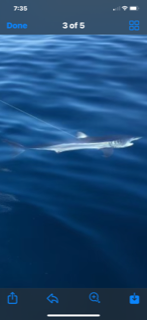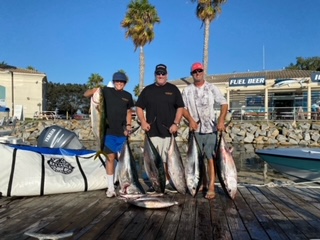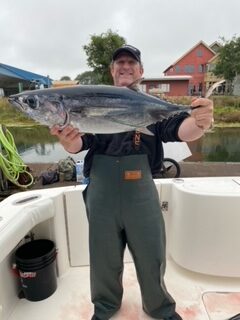 Past Events:
Larry Drum – provides the following results of the IntraClub Tournament.
Top Boat
Dan Mundy – Sea Ya Mundy
Fantasy Trophy – members of the winning team have names engraved on Perpetual Trophy
Dan Mundy
Ray Ortiz
Lorenz Krueger
John Bergkvist
Yellowtail
Jan Martin 13.4#
Dorado
John Bergkvist 12.3#
Larry is still waiting for more fees to come in so by next Thursday he should have the complete awards ready.
Ken Calof – Long Range Trip left San Diego on 8/29 at 9:00PM heading NW looking for BFT. There were 9 SCTC members and two others of board. Kelp patty hopping most of the night picking up Dorado but no BFT. Weather was pretty rough with about 5 foot seas and 20 kt wind. The next morning Clemente was to port and Catalina was to starboard. Still picking up lots of Doardo but no BFT. Weather was deteriorating as we continued heading NW toward Tanner. Captain Hunter decided to go SE toward the 425 for better weather and because the reports that the BFT were not biting at the Tanner. We went almost 24 hours without catching a fish. When we got to the Coronado's we started catching a lot of smaller BF. About midnight Captain Hunter headed further out and we started catching larger 60 to 80# BF. The night ended at about 3:30AM with everyone limiting on Dorado and BFT for the trip. A great trip with a determined crew who stayed up all night cleaning fish. We arrived at the dock at 7:00AM with lots of fish to take home.
Future Events:
Kid's Night At The Club – 9/14at the clubhouse. Please call Chris Scott and KC Coultrup to reserve a spot. Pizza and soft drinks will be served and along with games. The Awards from the Kids Trip will be announced and handed out.
Cedros Trip – 9/16 to 9/21. Call Mike Engle for details.
Options Trip #2 – 9/21 to 9/22 – Trip is currently full but call John Lavarias to get on the alternate list.
Fall Stag Trip – 9/29 to 10/1 – Call Dennis Friedman or Joe Vicic for details. Flyers are out and call Fred Westburg if you need a mooring.
Options Trip #3 – 10/19 to 10/20 – Trip is currently full but call John Lavarais to get on the alternate list.
Past Presidents/Sportsman Dinner – 11/3 Chairman Hank Brown – details and flyer will be out in the near future. Be on the lookout for surprise entertainment.
Tom and Jerry Party – 12/15 -Chairman Terry Bersuch and Crew – Details and flyer will be out in near future.
SIGN UP Now for the 2023 Fresh Water Trip which will be in Lake El Salto and Lake Picachos with two and a half days of fishing in each lake. Sign up now on the SCTC website to secure a spot for next year. Talk to Paul McEachern, Greg Bohnet or Hank Brown.
Couples Trip – November 12 to 17, 2022. Tamarindo, Costa Rica. Cor Claus is our host to 20 beautiful ocean front rooms with all the activities, fishing and endless cocktail parties you have come to expect from a SCTC Couples Trip. So far Cor has 15 couples signed up and we would like to see at least 20. Cor said the trip is now opened to guests. Let's get out of the country and relax in the sun and have fun fishing and plying golf with your best friends!! THIS WILL BE THE TRIP OF THE YEAR!! Contact Cor Claus. See Flyer below……
With no other business the meeting was concluded at 1:45PM